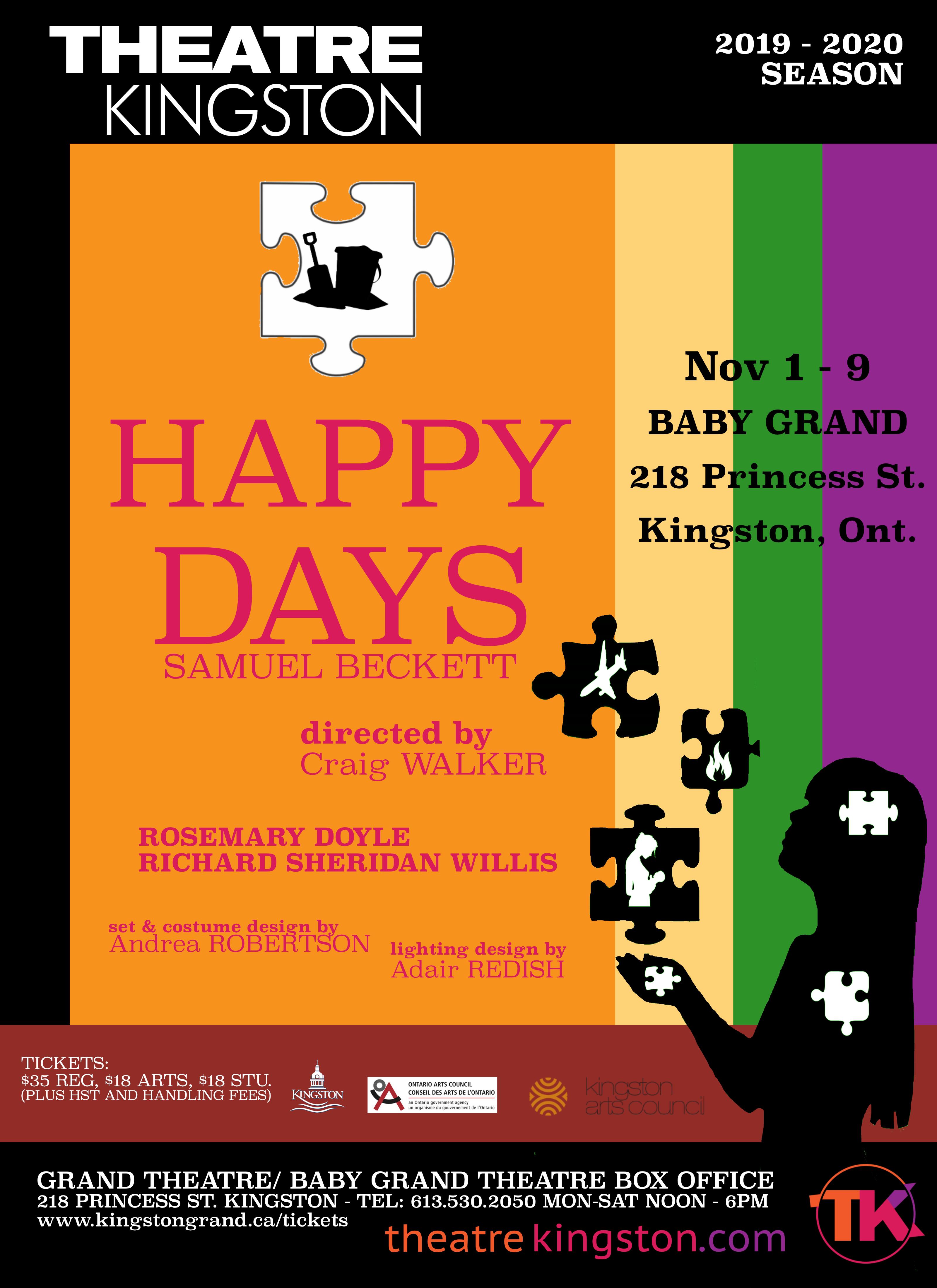 HAPPY DAYS:
"Happy Days remains one of the most unsettling and unforgettable plays in the modern canon." - New York Times
When we arrive at the Baby Grand we will meet Winnie, (Rosemary Doyle) buried in the earth up to her navel, behind he lounging is Willie, her husband (Richard Sheridan Willis) Was it Beckett's own creative imagination, which created Winnie's situation? In his novel, The Unnameable he writes "There are no days here, but I use the expression. I see him from the waist up, he stops at the waist." Or did he see someone buried in sand on an Irish beach; or, was he inspired by this form of partial burial as torture used as punishment in medieval times and by the French Foreign Legion, or are these characters actually dead, and this is to show their decomposition from the memories of the life they once had, are they indeed talking from the grave?

Happy Days reunites Theatre Kingston's former Artistic Director Craig Walker and current Artistic Director Rosemary Doyle, who last worked together in Theatre Kingstons 2001 production of Finnegans Wake, based on another brilliant Irish writer, James Joyce. Richard Sheridan Willis, Artistic Director of the St. Lawrence Shakespeare company rounds out this accomplished cast. Award-winning set and costume designer Andrea Robertson, with the help of Adair Redishs transformative lighting design will turn the Baby Grand into the dystopian world of Beckett's imagination.
Written by Samuel Beckett
Directed by Craig Walker
Performed by Rosemary Doyle and Richard Sheridan Willis
Buy a ticket to all 5 productions (Welcome to My Underworld, Happy Days, Peggy's Song, EEN & Mystery Event), put them in your cart and apply the 5 AND SAVE price point to receive the Subscription Membership rate!
Venue
218 Princess Street
Kingston ON K7L 1B2
Canada