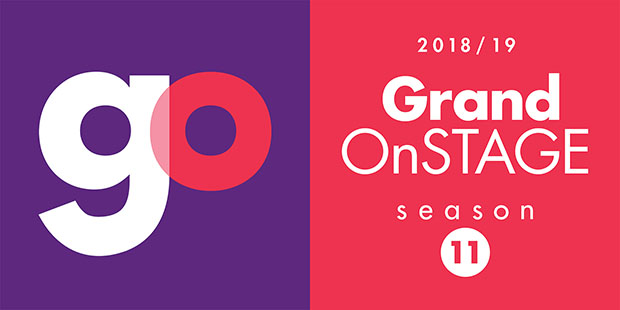 What Is Grand OnStage?
Presented by The City of Kingston's Cultural Services Department, Grand OnStage (GO) is a curated collection of shows scheduled from September - April of the following year.  Usually comprised of more than 40 events and showcased in Kingstron's Grand Theatre, GO proudly presents a variety of entertainment choices ranging from dance to theatre, KidStage to comedy, and world artists to popular music concerts. Grand OnStage scours the world for top entertainment and welcomes those artists to Kingston. 
Many of our events promote community engagement with the artists through pre-show InConversations, post-show TalkBacks, MasterClasses, meet & greets, and school performances. 
Whether it be ticket prices or the ability to maneuver the venue in a wheelchair, accessibility is a cornerstone of Grand OnStage. Endorsing and booking shows like Ahuri Theatre's "This is the Point", Grand OnStage brings honest issues to the forefront of public consciousness in the hope of raising a deeper understanding of all disabilities and a range of diversity. 
Accessibility is also considered when establishing ticket pricing.  Unlike other concert promoters, ticket costs are kept as low as possible and include many discount programs such as military, MyKingston, Under 30, Kingston Transit and more. 
Once the season is announced in May, Pick 4 or More show subscriptions are on sale to the general public.  In August, all shows are on sale without a subscription requirement.  Please scroll down for more information how to buy regular or subscription tickets.  For questions, please contact the box office at 613-530-2050.
How To Buy Tickets
Tickets sold through the Grand Theatre box office can be purchased a few different ways:
In person at the Grand Theatre Box Office, 218 Princess St., Monday through Saturday 12:00 p.m. to 6 p.m. (hours may be reduced in the summer months) and two hours prior to all performances including those on Sundays and holidays.
By phone at 613-530-2050.
NOTE - The Grand Theatre Box Office is closed for all statutory holidays.
If you purchase your tickets online you will have the option to print your tickets at home or pick them up from the Box office.
Why Subscribe?
Pick Four or More Shows
Savvy ticket-buyers can take advantage of the flexibility and savings as a Pick 4 or More subscriber. It's easy! Just pick 4 different shows that you would like to attend throughout the whole season and save up to 10% off the regular ticket price. You can exchange your tickets for any other Grand Theatre OnStage show throughout the season with ease and get the first pick of the best seats in the house.
We encourage patrons to create their own subscription packages by building a season by picking any Four or More of their favourite shows.  There is a variety of performances to choose from featuring theatre, comedy, classical music, kids, blues, dance, rock and country, along with a healthy addition of special events throughout the year.
Where to Buy Subscriptions
Download our 2018-19 season brochure [PDF]
To request a free brochure in the mail, contact our box office by phone or send an email with your full postal address to grandtheatremedia@cityofkingston.ca.
Call: 613-530-2050
Our friendly box office staff are ready to answer your questions and assist with your order. The box office is open Monday to Saturday noon to 6 p.m.
Visit: The Grand Theatre - 218 Princess St., Kingston, ON
Drop by the box office and experience personal service from our award winning sales team. The box office is open Monday to Saturday noon to 6 p.m.
In TixHub, click on the blue LOGIN button in the upper right corner.  We strongly recommend confirming your log-in prior to your ticketing session. (Can't remember your log-in ID or password? Call the box office 613-530-2050 for help.)
"Grand Theatre OnStage 18/19 Subscriptions" button appears on the left side.  Click on it to select shows and quantity of subscriptions.
Choose seating locations by clicking on green dots in the seating chart.
Verify your shopping cart, check out and pay using Visa, MasterCard or American Express.
Grand Theatre Foundation Individual Donors and Corporate Sponsors
Heartfelt thanks to the Grand Theatre Foundation and its individual donors and corporate sponsors. The 2018/19 Grand Theatre OnStage season sponsors include Homestead, AquaTerra, Delta Hotels, Walter Fenlon & Linda Ann Daly, Assante Wealth Management, Caldwell Advisory, Shoalts and Zaback Architechts Ltd, Mackillop Law, Chez Piggy, Empire Life, and South Pacific Journeys. The program also enjoys the support of the Canada Council for the Arts, Canadian Heritage and the Ontario Arts Council.