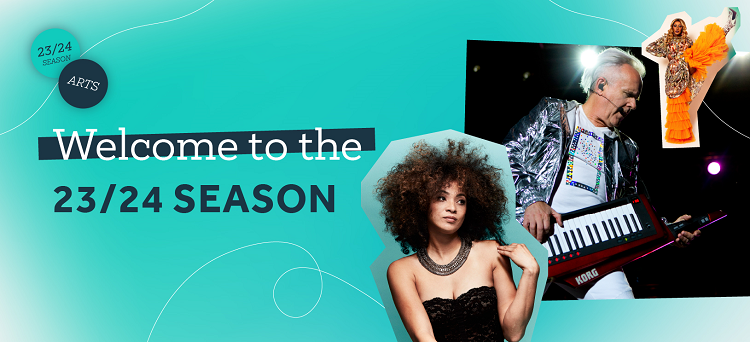 Grand OnStage 2023-24 Season Subscriptions 
Subscribers have the freedom to create their own individual package of entertainment with the Pick 4 or more subscription package option.  It has never been easier to renew your subscription or to become a new Grand OnStage season subscriber.
If you purchase a subscription for the Grand OnStage season, here are the benefits that are exclusive to you:
Automatic invitation to attend the following season's exclusive sneak peek launch event.
Exclusive subscriber ticket presale ensures you will have access to the best available seats before they go on sale to the general public.
Best available price. Save up to 10% off the regular ticket price on select Grand OnStage performances.
Subscribers are the only patrons who may exchange their Grand OnStage tickets. Tickets must be returned to the Box Office at least 24 hours before the performance and may be exchanged for another Grand OnStage performance in the current season. A per ticket exchange fee is applicable. Read more.
A discounted ticket Processing Fee is applied to subscription purchases.
If a subscriber buys additional tickets to Grand OnStage shows after purchasing a subscription, any reduced subscriber pricing will still be accessible and the per ticket processing fee will be waived on those additional tickets.
Opportunities to enter early bird subscription contests.
For more information, visit our FAQ. 
For all Grand OnStage 2023-24 on-sale information, click HERE.  
Consumer Warning:
Kingston Grand Theatre is not responsible for tickets purchased from other sources. Kingston Grand Theatre Box Office and KingstonGrand.ca are the only OFFICIAL TICKETING PROVIDERS for events at the Grand Theatre and affiliated venues. Tickets obtained from unauthorized sources are often greatly inflated in price. They may be stolen, counterfeit or invalid and may not be honoured. Tickets purchased from other sources are not eligible for a replacement if tickets are lost or stolen, or if the event is cancelled or rescheduled.  We encourage you to contact our box office prior to your online purchase should you have any questions, (Monday to Friday, 12 noon to 4:30 p.m.)