Kingston Symphony strives to bring you inspiration, amazement, innovation, and perhaps most importantly, emotional connection. It is at the very heart of what we do. Our offerings this season showcase a program that gives you the classics by revered composers, faithfully performed by our outstanding orchestra, while introducing you to a number of world-class musicians as guest artists. Prepare to be wowed!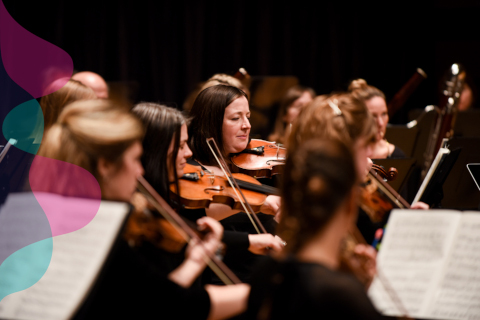 We continue to raise the bar. The 2023-2024 season is an ambitious one. At the Isabel Bader Centre for the Performing Arts, our Masterworks Series continues to exemplify edge-of-your-seat orchestral excellence. It remains our flagship series, where we join with virtuoso guest artists like Matt Herskowitz and Rachel Mercer. We cover the classics while also premiering substantial, magnificent, brand-new Canadian works. Our beloved composer festival turns its spotlight on Tchaikovsky. Symphonies by Brahms, Rachmaninoff, Mendelssohn, and Dvorak will make for unforgettable concert experiences.

Our Pops Series concerts at Kingston Grand Theatre are equally intoxicating. Between a revue of some incredible movie music, the magic of Sarah Slean performing the very best of Joni Mitchell, and phenom Leo P achieving musical and athletic feats thought completely impossible, the Kingston Symphony's Pops Series will mesmerize, delight, and entertain unlike any Saturday night on the town you have ever experienced! 
Harmon the Hound as well as our celebrated Science at the Symphony concert return to the stage to headline our Family Series. It will be absolute fun for all ages! And, of course, our beloved Candlelight Christmas concerts, a staple of the season, are carefully designed to give that special warm Christmassy feeling from top of show to the very last note.

Come celebrate a wonderful season of music with us! It is going to be truly magnificent.