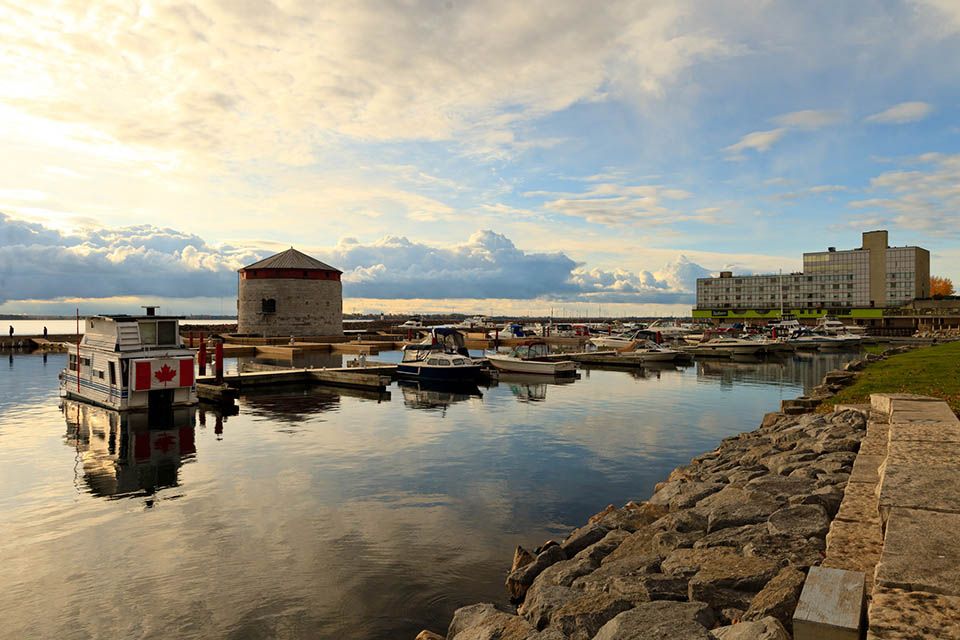 The Grand Theatre welcomes the diversity of its patrons and visitors and is committed to working with individuals to remove barriers to participation where possible. As is consistent with the AODA and the OHRC, we strive to ensure everyone's experiences with, and at, the Grand Theatre reflect the principles of dignity, independence, equal opportunity and integration. As a result, we also respectfully ask our patrons and visitors to be considerate and welcoming of those with whom they share this space.
Entrances
The Grand Theatre is an accessible building. Here is everything you need to know about attending a performance.
The Grand Theatre can be accessed from the front, north entrance on Princess Street and the rear, south entrance off Opera Lane.  The front and rear doors to the theatre walkway (connecting Princess Street to Opera Lane) have button-activated door openers. There is a ramp from the Opera Lane entrance into the walkway.
Passenger Drop-Off
Grand Theatre staff is available to assist patrons at the Princess Street entrance before and after a performance. Please contact the Operations Coordinator Keith MacVicar at least 2 business days before the performance to arrange assistance.
The front and rear doors to the theatre walkway (connecting Princess Street to Opera Lane) have button-activated door openers. There is a ramp from the Opera Lane (rear) entrance into the walkway. Chown Garage (behind the Grand Theatre) has accessible parking spaces and an accessible elevator on the Brock Street side.
Seating
There is accessible reserved seating for wheelchairs and scooters. Please reserve an accessible seat with the Grand Theatre Box office when you purchase your ticket. Companions and caregivers can be seated next to the individual they are accompanying in the accessible viewing area. These tickets are available on a first-come, first-served basis. If space permits, more than one companion can sit beside the scooter or wheelchair. Please note that tickets in the accessible viewing area are always sold at the lowest price point and only available through the Box office, not online.
Staff will be posted at all theatre doors to assist patrons during the performance.  Two courtesy manual wheelchairs are available for your use at the Regina Rosen Auditorium and Baby Grand Theatres.
Guide animals are permitted to stay with their owner throughout the event. A relief and water station for guide dogs can be provided with advance notification.
Visual Assistance
Information about events can be provided to you electronically or in Braille, subject to availability of program information. Please contact the Grand Theatre Box office by email or by phone at 613-530-2050 at least four weeks prior to a performance to request information in alternative formats. Signage throughout the building is provided in tactile and/or Braille formats.
Hearing Assistance
Both the Regina Rosen Auditorium and the Baby Grand have assistive listening systems. The assistive listening system in the Regina Rosen Auditorium is brand-new and employs the latest technology. We can provide you with a free headset appropriate to your hearing loss and a receiver, upon receipt of one piece of photo identification at the Coat Check. All headsets are cleaned with alcohol before and after usage. If you require an interpreter or intervener for a show at the Grand Theatre that is not part of the Grand OnStage series (a rental show), a fee may be applied by the promoter. For more information, please contact Keith MacVicar with any questions.
The Grand Theatre has a TTY that is accessed through the City of Kingston TTY number. To contact the Grand Theatre, call 613-546-4889 and a Customer Service Representative will transfer your call to the Grand Theatre at extension 1149. The Grand Theatre TTY is available Monday through Friday, noon to 5 p.m.
Elevators
There is a user-friendly accessible lift between the first and third floors to access the Baby Grand and Springer Lounge from the main lobby. There is also a second, smaller lift between the second and third floors, to access the Davies Lounge. Grand Theatre staff is happy to assist you while using the lifts.
The lifts can accommodate a manual, unreclined wheelchair with an attendant. Wheelchairs and scooters wider than 36" and longer than 44" cannot be accommodated.
Restrooms
There are two individual washrooms that may be usable by some patrons with wheelchairs, but not by all. Grand Theatre staff assigned to both the main floor and second floor washrooms before and after a performance, and at intermission can assist you to enter and exit the washroom.
Stage Access
Please note that the Regina Rosen stage is not fully accessible at this time. We are happy to work with you to discuss staging accommodations for your production that will optimize the experience for both actors and audience. To discuss accommodations please contact Dianne Zemba, Theatre Manager.
Beverage Service
The bar in the main lobby has a wide side entrance that can be used to serve refreshments to patrons with disabilities.
If you have concerns about barriers that people with disabilities face in accessing municipal services and facilities, please contact the City of Kingston at 613-546-0000.