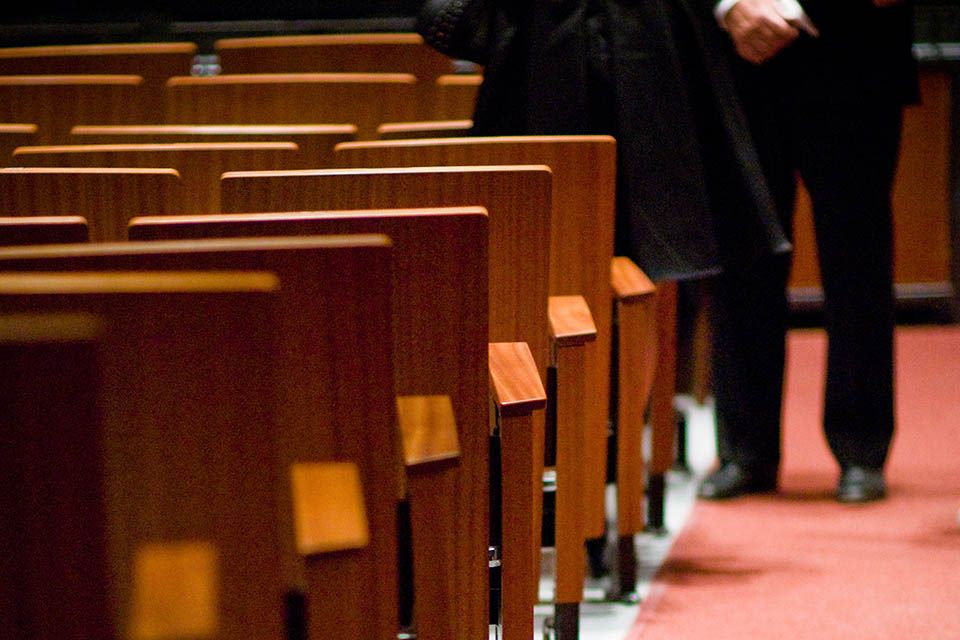 Volunteers at Kingston Grand Theatre are assigned to various roles within the Regina Rosen Auditorium and the Baby Grand including taking tickets, acting as ushers, staffing the coat check, selling CDs and other artist merchandise, and assisting those patrons wishing additional assistance within the limits of the theatre. They may occasionally be called upon to perform other duties such as stuffing envelopes for mailing, dropping off brochures to various Kingston businesses, or co-hosting receptions and special events. Volunteers are a valuable resource and asset to the Grand Theatre and The City of Kingston. Volunteers should have an interest and enthusiasm for the performing arts, a willingness to serve all patrons of the theatre with care and respect, and a friendly and professional attitude.
Volunteers act as hosts for events at Kingston Grand Theatre. As such, their primary responsibility is to ensure that audience members feel welcomed and that they have an enjoyable, comfortable experience in a safe environment.
Qualifications of a Volunteer Usher
Must complete a successful CPIC
Must successfully go through an interview
Understanding of the role of usher and of the emergency procedures of the Grand Theatre (training provided).
Ability to think clearly and follow designated procedures in an emergency and/or stressful situation.
Ability to quickly identify and resolve problems.
Ability to stand for long periods of time and to climb stairs.
Ability to present yourself in a friendly, outgoing manner.
Ability to adapt to a variety of circumstances as no two shows or audiences are the same.
Enjoyment of working with other volunteers and the public.
Experience in, or an appreciation of, the arts and entertainment business.
Available at least 2 shifts per month from September to May
If you'd like to join the team, please fill out the form below, and we'll be in touch!