The Local Arts Residency provides space and support to Kingston's performing artists to explore ideas, create and nurture new directions in their work. The Residency was established in 2021 in response to the impact of COVID-19 on the performing arts, and to expand City investment in local artist development. It is now an annual program that supports local performing artists and enhances the Kingston Grand Theatre as an artistic community hub.  
In 2022, four artists-in-residence were selected for the program. Videos were created to document the residencies, and they can be viewed on the Kingston Grand Theatre - YouTube Channel.
Learn more about the City's Local Arts Residency program, including its 2023 Call for Applications on the City of Kingston website: Local Arts Residency - City of Kingston.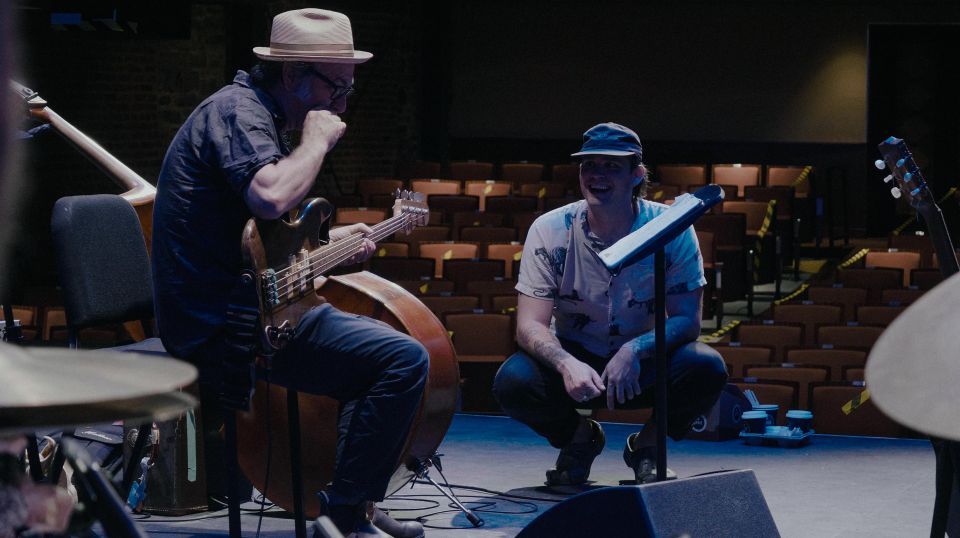 2022 Artists-in-Residence
Four artists-in-residence were selected for the 2022 Local Arts Residency. Through an open call for proposals, 32 submissions were reviewed by a jury made up of professional artists presented through the City's Grand OnStage program including Franco Boni, Miss Emily, and Crazy Smooth.  
The artists-in-residence were:  
Jan Le Clair – July 4-8, Regina Rosen Auditorium
Jan Le Clair studied accordion and piano as a young child but chose to focus on piano. Classically trained, Jan hosts a Bachelor of Music Therapy from Capilano University, BC. Rebirthing the accordion after decades of dormancy, it has now become her mainstay. Performing across southern Ontario in various bands, her genres of choice include global folk/trad, eastern European/Balkan/Klezmer, art music, and contemporary euro pop. A former public educator, Jan loves to weave story and accordion pedagogy into her performances.
Zahra (Harriet) Badua-Baffoe and Melissa Noventa – July 4-8, Baby Grand
Zahra Harriet Badua-Baffoe is a Ghanaian dancer/teacher/choreographer originally from Montreal, Quebec. Her passion for dance started at a very young age as a means to learn and understand her African heritage.  Through discovery and training, she is skilled in Traditional West African, Afro-Caribbean folklore, Afrobeats, Dancehall and Soca. She is the founder of an educational and performance base brand called ZahraMoves which promotes and educates people on African/Caribbean culture through movements.
Melissa Noventa is a dancer and researcher originally from Guelph, Ontario. Throughout her career, she has accumulated a wide range of training, performing, and teaching experience. Melissa's work has spanned across commercial, academic, and artistic settings allowing her to work alongside a formidable list of distinguished artists and institutions from Canada and abroad including some of Cuba's premiere folkloric ensembles. Since arriving to Kingston in 2019, she has been working with Queen's Afro-Caribbean Student Association dance team, and the Movement Market to share Afro-Cuban dance with the Kingston community.
Lydia Wilton – July 11-15, Regina Rosen Auditorium
Lydia Wilton is a music producer, songwriter, recording artist, and audio engineer from Kingston, Ontario. Her work harnesses music as a force for communal care, including original concept albums exploring mental illness, grief, and recovery. She is also known as Number One, the frontman of Canadian rock band Nameless Friends. Lydia's production discography spans credits in glam rock, children's musical theatre, and indie folk-punk. As a young, female producer, Lydia is an outspoken advocate for women in music. She is also an award-winning researcher and PhD candidate at Western University, studying record production and musicology.
Chrysalis (Sophia Fabiilli, Zoë Sweet, and Sarah Kitz) – July 11-15, Baby Grand
Sophia Fabiilli is an award-winning playwright, writer, actor, producer, and creator. Sophia is a graduate of the University of Toronto (Honours B.A.) and Sheridan College (Diploma in Acting). As a playwright her works include: The Philanderess (The Second City Award for Best New Comedy, 2015), How to Stand Up (Ellen Ross Stuart Opening Doors Award, 2018) and Liars at a Funeral, which was set to premiere at the Blyth Festival in 2020 and postponed due to Covid-19. A proud feminist, Sophia was one of the leading forces behind the #FringeFemmeTO movement and co-produced the sold-out annual fundraiser Feminist Debaters (2016-2020).
Zoë is a performer, theatre maker, producer, movement coach, instructor at Queen's University, and Co-Artistic Director of FeverGraph Theatre Company. With the The Dead Roads Collective, she is the co-creator, performer and producer of She Spreads, premiering February 2022 in Toronto, Ontario before touring to Calgary's Downstage Theatre. As an actor, her work includes: Renee in Soulpepper's M. Butterfly (cancelled due to Covid-19), Mara in world premiere of GCTC's Behaviour by Darrah Teitel, The Red Horse is Leaving at Summerworks, Helen in It's Your Funeral at Upper Canada Playhouse, Lenina Crowne in Litmus Theatre's Brave New World (Winner: Best Ensemble, Nominee: Best Actress – My Entertainment World), Jule in Praxis Theatre/Fevergraph's Objections to Sex and Violence (Nominee: Best Production and Best Ensemble – My Entertainment World), Helena Charles in Fevergraph's Look Back In Anger (Best Production – My Entertainment World).
Sarah Kitz is a director, creator, actor, teacher and coach. She is a graduate of the Birmingham Conservatory at Stratford, a past Stratford company member, and has acted across Canada. She has participated in directing programs at Stratford Festival, Shaw Festival, and is a member of Directors Lab North in participation with Lincoln Centre. She has worked at Luminato Festival, Shakespeare In The Ruins, Tarragon Theatre, Theatre Passe Muraille, Crow's Theatre, Canadian Stage, Next Stage Festival, SummerWorks, Pandemic Theatre, Great Canadian Theatre Company, The Canadian Music Theatre Project, Shakespeare in the Ruff, and across Canada. She's extensively involved with the AMY Project, which supports the creative trajectories of young women and non-binary youth in Toronto through arts mentorship
Artists-in-residence will receive in-kind use of a professional workspace at the Kingston Grand Theatre including the Regina Rosen Auditorium and the Baby Grand featuring state-of-the-art equipment, professional support in technical production, and an honourarium of $1,000. 
2021 Artists-in-Residence
Nine artists-in-residence were selected for the 2021 Local Arts Residency including Michael Duguay, Spencer Evans, Francisco Corbett, Erin Ball with Bon Evans, Miss Emily, Camille Spencer, Kay Kenney, The Gertrudes and Gary Rasberry. Through collaborations, over 60 local artists participated in the Residency program.
Videos of the artists-in-residence were recorded at the Kingston Grand Theatre to provide a behind-the-scenes look at the artists and work created and explored. Videos created by Josh Lyon. Video for The Gertrudes created by Allen Bergeron.
All videos can be viewed on the Kingston Grand Theatre YouTube channel.
CONTACT
Jenny Pedler 
Program Coordinator 
Arts & Culture Services, City of Kingston 
jpedler@cityofkingston.ca