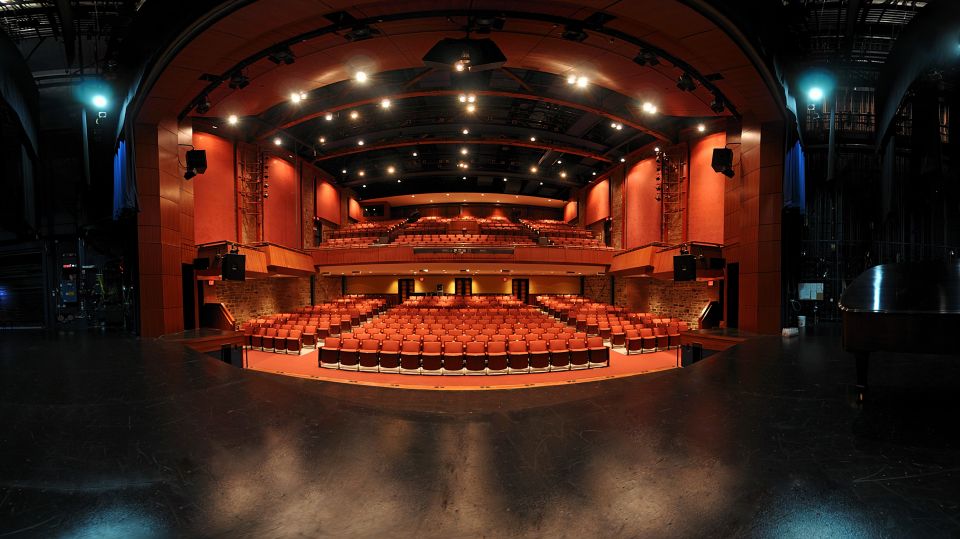 Update (September 17, 2021): The City of Kingston is investing further in local artist development by supporting five additional artists-in-residences in 2021. This builds on the success of the pilot phase of Kingston Grand Theatre's Local Residency Program that provides space and support to Kingston performing artists to explore ideas, create and nurture new directions in their work.
The second phase kicks off September 20-24 with Miss Emily followed by Camille Spencer (October 18-22), Kay Kenney (October 25-29), The Gertrudes (November 8-12), and Gary Rasberry (November 15-19). The artists were selected based on the assessment completed by a committee of professional performing artists this past spring.
Kingston Grand Theatre's Local Arts Residency Program that began earlier this summer ends today after a successful first phase. The four inaugural artists-in-residence were Michael C. Duguay, Spencer Evans, Francisco Corbett, and Erin Ball. Videos filmed on the final day of each residency to profile the artists will be featured on this page.
Phase #2 Artists-in-Residence:
September 20-24 - Emily Fennell - Full-time musician Miss Emily has called Kingston home now for 17 years. Her 2017 album 'In Between' featuring Gord Sinclair & Rob Baker from The Tragically Hip garnered much interest from the blues community, for which she is very grateful. Miss Emily won 2019 Maple Blues Awards (New Artist of the Year, Female Vocalist of the Year) and was nominated for Entertainer of the Year. Emily has five appearances at Ottawa Blues Fest to date and her 2019 summer festival season included Montreal Jazz Fest, Harvest Jazz & Blues Fest and Summertime Blues Fest in Nanaimo, among many others. In late 2020 'Miss Emily LIVE at The Isabel' was released to an international audience with overwhelmingly positive reviews.  
October 18-22 - Camille Spencer (with Movement Market Collective) - Movement Market Collective is a group of pre-professional and professional dance, lighting, and visual artists that come together to support and create a hub for local contemporary dance in Kingston. Camille Spencer is a professional dance artist, teacher, and choreographer, with 15 years of experience internationally in the USA, Scotland, England, Australia, China, and now Canada. She teaches at The Kingston School of Dance, along with developing independent projects, engaging with Movement Market Collective, GRIP Artists, and with the community as a Dance for Parkinson's teacher and dance advocate.
October 25-29 - Kay Kenney - Kay Kenney is a professional contemporary dance artist from Kingston and a graduate of The School of Dance Professional Contemporary Dance. Kay has performed works for many established Canadian choreographers and has been a company dancer of Ottawa Dance Directive since 2013. She has been dancing for Social Growl Dance (Toronto) for the past seven years, while also acting as the company's rehearsal director. Kay has acted as a Youth Arts Ambassador for Ontario Culture Days and has collaborated with many local festivals, such as The Skeleton Park Arts Festival, The Juvenis Festival, The Kick & Push Festival, AnArch Theatre, The Cellar Door Project, Reelout Queer Film Festival, Calliope Collective, and more. Kay is the creative director for Movement Market Collective, received a residency through The Isabel Bader Centre for Performing Arts IMAGINE Project, and was a 2020 Kingston Mayor's Arts Award recipient.
November 8-12 - The Gertrudes - The Gertrudes bring together a versatile collective of musicians including co-producer Jason Mercer (Ani DiFranco, Ron Sexsmith) and fiddle player Annie Clifford (Al Tuck, Old Man Luedecke) to make a unique, experimental, and highly collaborative sound. The band has recorded four full-length albums, two EPs featuring a manic ensemble of choirs, symphonies, and over 100 local guest musicians. They have shared the stage with artists such as Sarah Harmer, Calexico, and Ricky Skaggs. Canadian tours have included performances at The Vancouver Folk Festival, Pop Montreal, Blue Skies Music Fest, and the Halifax Pop Explosion. Their latest album, 'Emergency to Emergency' (slated for a Fall 2021 release) is another collaborative community-building project for the band, featuring members of the Kingston Symphony, Open Voices Choir, and an ambitious line-up of renowned Kingston guest musicians including Spencer Evans, Anna Sudac, Jonathan Stewart, Anna Robertson, Teilhard Frost, Georgette Fry, and many more.
November 15-19 - Gary Rasberry - JUNO-nominated children's artist Gary Rasberry has been a fixture on the Kingston music and arts scene for over three decades. A noted artist-educator, Gary has held artist-in-residencies internationally, in California, Barcelona, and Amsterdam, and regularly criss-crosses the country as a VIA Rail Artist On Board, from Halifax to Vancouver, stopping along the way to perform at schools, festivals, camps and house concerts. As an Imagination Consultant, Gary Rasberry offers Song, Story & Sound workshops and does his very best to leave a trail of happy children and smiling parents in his wake. A published poet and singer-songwriter, Rasberry released 'Polishing Stone,' his fourth solo record in Spring 2021.
Update (August 18, 2021): The City's new Local Arts Residency program recently welcomed Kingston-based singer-songwriter, Michael C. Duguay to Kingston Grand Theatre for a week-long residency from July 12-16, 2021. During the Residency, Duguay focused on the creation and completion of new music. In preparation for recording and performance, Duguay and his musical collaborators Teilhard Frost (percussion, saxophone, fiddle, vocals), Jason Mercer (electric and upright bass) and Liam Cole (drums) also refined some of the other compositions in his body of work.
Enjoy a behind-the-scenes look at Michael C. Duguay's Residency at Kingston Grand Theatre. Video created and produced by Josh Lyon (AKAFLK Productions).
Upcoming Residencies:
August 16-20 – Spencer Evans (featuring Ricky Brant, B Heaslip & Oscar Evans) – Spencer Evans is a keyboardist, clarinetist, accordion player, vocalist/entertainer, composer, bandleader, music director, and session musician who has toured worldwide as a professional musician. Spencer's musical styles range from classical to traditional New Orleans jazz to klezmer to Afro-Cuban to classic soul, funk and reggae.
August 23-27 – Francisco Corbett – Francisco Corbett is a practicing artist working in contemporary painting and performance art. He combines his paintings and performance art together to create a "total theatre" approach to his work and life. His work is a physical performance with the canvas being the by-product of who he is as an artist at the time.
September 13-17 – Erin Ball with Bon Evans - Erin Ball is a Kingston/Katarokwi based Disabled circus artist with a focus on creating accessible work. Bon Evans is a Kingston/Kataroki based musician, videographer and producer. The two met virtually during the pandemic in hopes of creating art together. A piece they created called 2014 (along with Georgina Riel Wabishki Mukkwa Kwe who titled the piece and created a poem for the work), was presented as an opening at the Grand OnStage Virtual Program for The 7 Fingers.
Update (June 23, 2021): The four artists who have been selected to participate in the inaugural Local Arts Residency program at Kingston Grand Theatre have been announced and includes local artists Michael Duguay (music), Francisco Corbett (multi-disciplinary), Erin Ball (aerial circus arts) and Spencer Evans (music). This new artist in residence program is a pilot initiative developed in response to the impact of COVID-19 on the performing arts and aims to support local artists and leverage  Kingston Grand Theatre as a community hub. Through an open call for submissions, 25 applications were received, and a Selection Committee made up of professional artists presented through the Grand OnStage program including Christine Friday, contemporary dance artist and choreographer, John Millard, composer, singer, songwriter, and Marjorie Chan, Artistic Director of Theatre Passe Muraille selected the artists to kick off this new initiative.  
The four residencies will take place on the following dates:  
July 12-16 – Michael Duguay
August 16-20 – Spencer Evans 
August 23-27 – Francisco Corbett 
September 13-17 – Erin Ball   
Due to the high level of interest in this program as a pilot initiative, these first four residencies will be assessed to determine if this program could continue later in the fall/winter of 2021.  
Update (May 14, 2021): The application deadline for this program has now closed and over 20 applications have been received. The applications will be reviewed the week of May 17 by the Selection Committee comprised of professional artists presented through the Grand OnStage program. The program timelines as promoted may be adjusted in response to changing provincial and public health guidelines. We look forward to launching this program and to working with the selected artists to highlight and share their work through Kingston Grand Theatre. Selected artists will be contacted by the end of May/early June.
About the Local Arts Residency 
Kingston Grand Theatre Local Arts Residency is a pilot initiative that was developed in response to the impact of COVID-19 on the performing arts. The Residency, which takes place in Kingston Grand Theatre's Regina Rosen Auditorium is open to Kingston-based artists and collectives working in varying performing arts disciplines and provides participants space and support to explore new ideas, create, self-direct their research and time, and nurture new directions in their work. 
The Residency will be managed in adherence to public health guidelines and safety reopening protocols established for the Grand Theatre.
Artists-in-residence will receive:
In-kind use of a professional workspace in the Regina Rosen Auditorium that will be made available for a duration of one week for performing artists (of varying disciplines) to engage in a self-directed creation process of their choosing.
Professional guidance from Cultural Services and Grand Theatre staff in Technical Production to aid in the development of the artist's creative practice.
Promotional support or production elements are necessary to digitally present, perform or provide a talk.
Funding support through an honorarium of $1,000 for artistic expenses.
All artists-in-residence will give one brief, digital public presentation, performance, workshop, or similar event that showcases the work-in-progress developed during their residency.
More information about Kingston Grand Theatre and Regina Rosen Auditorium can be found here: https://www.kingstongrand.ca/about.
Jenny Pedler
Program Coordinator
Arts & Cultural Services, City of Kingston jpedler@cityofkingston.ca