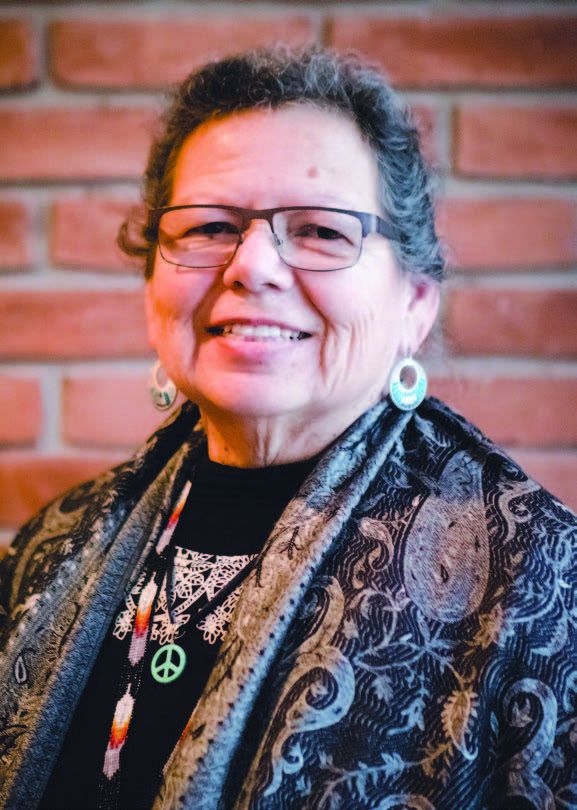 The City of Kingston is committed to a shared path of reconciliation. Through the Grand OnStage performing arts program, we bring Indigenous cultural and educational experiences to Kingston residents.
In 2018, the City launched the Grand OnStage Elder in Residence/Traditional Knowledge Keeper initiative. The City released a call for an Elder in Residence/Traditional Knowledge Keeper who is able to share his or her knowledge, traditional teachings, and offer cultural support to patrons and artists over the 2018-2019 Grand OnStage season. Grandmother Kathy Brant was selected by a jury of peers to fulfill this role. Due to the success of the initiative in its first year, staff has expanded the role to a four-year term, which Grandmother Kathy will fulfill.
Grandmother Kathy is Mohawk of the Haudenosaunee Six Nations Confederacy and has worked with Indigenous communities for close to 25 years. In her role as Grandmother in Residence for Grand OnStage, Grandmother Kathy will continue to share knowledge and traditional teachings, provide traditional medicine to patrons and artists, and increase awareness of Indigenous culture. Look for Grandmother Kathy in the lobby of Kingston Grand Theatre throughout the season and we welcome you to connect with her to learn, ask questions and form new connections. 
As part of her work for the upcoming season, Grandmother Kathy has developed a land acknowledgment for Grand OnStage that she will offer at select performances throughout the season.
Land Acknowledgement
I offer these words in the spirit of this gathering. I want to acknowledge the original caretakers of this land from time immemorial, the Algonquin-Anishinaabe and Allied Nations, the Haudenosaunee Six Nations Confederacy, which includes the nearby Mohawks, and many other First Nations People who crossed these lands for sustenance, trade, and survival.
To do this acknowledgment is to recognize its long history, predating the establishment of European Colonies. It is also to acknowledge this territory's significance for the Indigenous Peoples who lived and continue to live upon it, a people whose practices and spiritualities were tied to the land and continue to develop in relationship to the territory and its other inhabitants today.
The Kingston Indigenous communities continue to reflect the areas Algonquin-Anishinaabe and Haudenosaunee roots with also a significant Métis and Innu and Inuit community and other First Peoples from other Nations across Turtle Island who are present here today.
It is with deep humility that we acknowledge and offer our gratitude for their contributions to this community, having respect for all as we share this space now and walk side by side into the future.
– Grandmother Kathy Brant