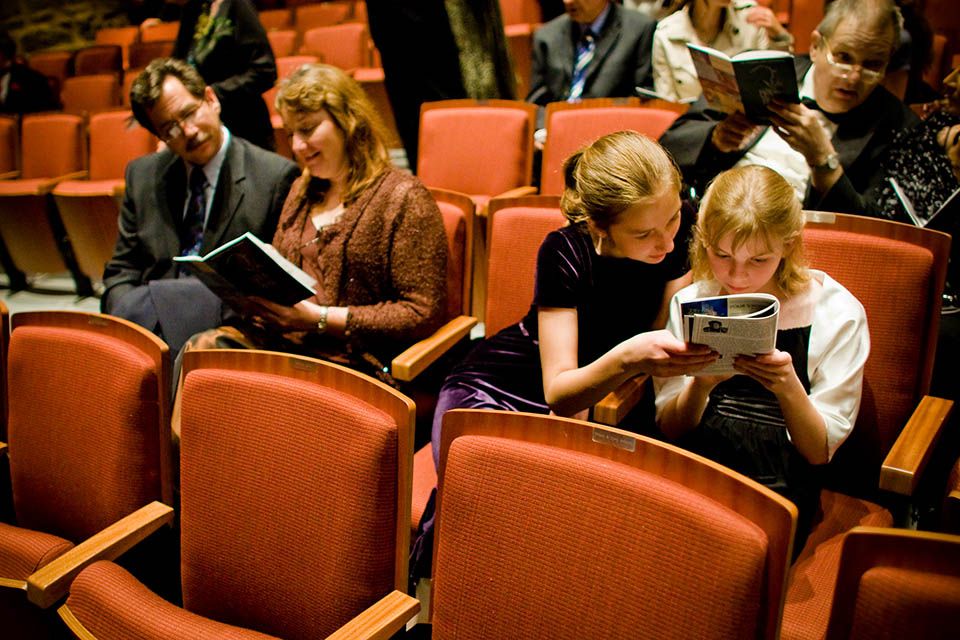 We ask all guests to be mindful of their purchases. Refunds and exchanges are not permitted, and all sales are final.
Every person attending a performance at Kingston Grand Theatre must have a ticket in order to be admitted, due to fire code regulations. As a courtesy to other audience members, please use discretion if bringing a young child to an evening performance. For more info, visit our FAQ page.
Babes-in-arms policy
Babes-in-arms are children who have yet to reach their first birthday, who will not occupy an additional seat. There are limited babes-in-arms tickets for each performance and are only available on a first-come, first-served basis.  Parents/guardians must order these complimentary tickets by phone or in-person from the Box Office in advance of the performance or event. For more information, contact the box office at 613-530-2050.
Child tickets
For selected performances, children under the age of 12 years can purchase a ticket that is up to 50% off the regular ticket price. These only apply to selected performances and can be purchased online, by phone or in person at the Kingston Grand Theatre Box Office. To find out if the show you are interested in has child tickets, please contact the Box Office at 613-530-2050.
Inclement Weather
Kingston Grand Theatre is committed to honouring its performance schedule. If travelling to the theatre in inclement weather, please allow plenty of extra time and check for delays and updates from local media outlets. Kingston Grand Theatre regrets that tickets not used due to inclement weather, traffic delays or transit issues cannot be refunded or exchanged.
Discount tickets
For selected Grand OnStage performances, a number of discount programs are available. To see if you are eligible, please visit our Discounted Tickets page.
Grand OnStage Subscriber Ticket Exchange Privileges
Subscribers may exchange subscription tickets any time before 4 p.m. on the business day prior to the performance you cannot attend. You may exchange your tickets for any other performance presented by Grand OnStage, subject to availability.
Please note:
Tickets must be exchanged within the current season (September - April).
There is a service charge per ticket for exchanges.
If the performance for which you are exchanging your tickets is more expensive, you will be required to pay the difference. If the performance is less expensive, you will be given a credit towards another "Grand OnStage" performance (and if not used, processed as a donation).
All ticket exchanges require a return of the original ticket to Kingston Grand Theatre Box Office and must be returned in person. Your exchange will not be processed until the Box Office receives the original ticket. Ticket exchanges will not be allowed the day of the performance, or after an event has occurred.
Kingston Grand Theatre REGULAR Box Office hours are Monday through Saturday noon to 4:30 p.m. and two hours prior to all performances and those on Sundays and holidays. Box Office hours may be reduced in the summer months. 
Lost Tickets
If you lose your tickets, please contact the box office. We will be happy to make a pass for the ticketed performance if the purchase can be verified. This pass cannot be exchanged for another performance.
Late Seating
All events start promptly at the time printed on the ticket. Latecomers will be seated during the first appropriate pause in the program, as determined by the artist. Thank you for your cooperation.
Accessible Seating
Kingston Grand Theatre offers accessible seating for patrons and their companions/caregivers by request. Accessible seating is limited and provided on a first come, first served basis at the time of purchase. For more info, visit the Venue's Accessibility page or contact the Box Office at 613-530-2050 or email grandtheatre2@cityofkingston.ca.  
Please note that the seating in our balcony is a little tighter for legroom than our orchestra level seating, just so you are aware.
Electronic Courtesy
Cameras and recording devices of any type are not permitted at any Kingston Grand Theatre performance. Violators are subject to removal. Please remember to turn off all pagers, electronic watch alarms, and cellular phones before entering the theatre.
Use of Scented Products
Out of consideration for your fellow patrons, we would like to remind you that the use of perfumes and colognes can cause allergic reactions. Less is more... none is best! If you are experiencing an allergic reaction due to your seating location, please contact an usher about the possibility of a relocation.
Notice of Collection
Please visit our Privacy Policy page for more information. 
Consumer Warning:
Kingston Grand Theatre is not responsible for tickets purchased from other sources. The Kingston Grand Theatre Box Office and KingstonGrand.ca are the only OFFICIAL TICKETING PROVIDERS for events at Kingston Grand Theatre and affiliated venues. Tickets obtained from unauthorized sources are often greatly inflated in price. They may be stolen, counterfeit or invalid and may not be honored. Tickets purchased from other sources are not eligible for replacement if tickets are lost or stolen, or if the event is canceled or rescheduled.  We encourage you to contact our box office prior to your online purchase should you have any questions, (M-Sat Noon - 4:30 pm.)