1 VENUE | 9 SHOWS | 35 PERFORMANCES | 13 DAYS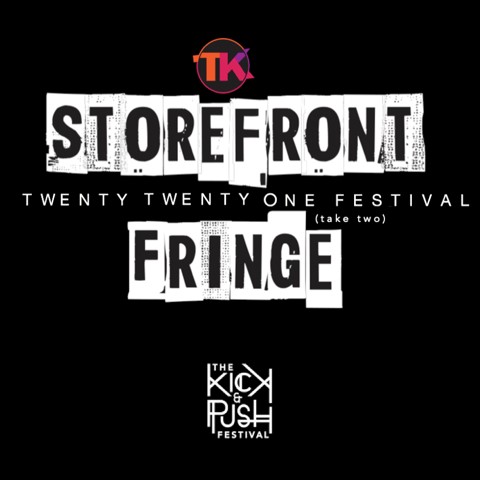 Welcome to Theatre Kingston Storefront Fringe 2021
For the first two weeks of August, there are over 30 performances being offered, some are live in the Baby Grand, many are virtually from the comfort of your own home!
What is a Fringe Festival Anyway?
​Fringe festivals are all about providing an accessible avenue for independent theatre artists to produce and perform their work in front of an audience. The Fringe is really the essence of theatre; virtually anybody can submit a show to the Fringe and the festivals place no limits on content so shows can be bold, raw and uncensored.
Tickets
Single Performance Tickets are $19.50 each ($10 + Grand Theatre Box Office Fees & HST)
$10 of the single performance ticket and $9 of each package ticket you pay goes directly into the pockets of the artists, whether they are local or international, emerging or professional. We're proud to be paying our artists while still being one of the most affordable theatre tickets in town!
Packages  #TKDASH
TK Dash Live package = 4 pack of performances = $67 (includes all fees & HST)
Full TK Dash package = 4 performance in person + 5 virtual performances = $140 (includes all fees & HST)  + (Bonuses from local businesses and the opportunity to vote for the Fringe awards)
Shows offered in no particular order:
Virtual offerings:
Storefront Fringe Guests
Masks are to be always worn, high touch point areas are cleaned regularly, hand sanitizers available throughout and distanced seating is in effect.  You are required to complete a COVID 19 screening form.  It will be included in your reminder notice 48 hours in advance of your performance(s).  If not filled out in advance, you will be required to complete the form upon arrival. Please note there will be no concessions or bar service during these performances.  A copy of the COVID Safety Plan is available upon request.
Disclaimer: The presentation of live shows and events at Kingston Grand Theatre is subject to all provincial and public health guidelines in place at the time of the scheduled performance.
Venue
218 Princess Street
Kingston ON K7L 1B2
Canada