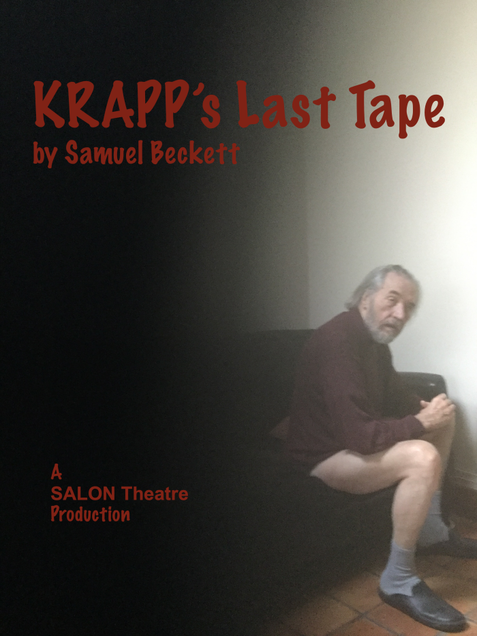 Presented by SALON Theatre

SALONTheatre was born in 1981 as an after-show performance bar for artists visiting the Toronto International Theatre Festival. From 1983 - 1987, SALON was a resident theatre company at Queen Street West's The Great Hall. In Kingston, SALON partnered with The Grand Theatre to produce the Kingston Summer Festival (1993 - 1999), with Theatre Kingston to produce The King's Conscience (2009). and, independently, the John A. Macdonald Festival (2010 - 2015). SALON makes playpens - environments within which trained and talented theatre artists are invited to pursue their dreams.
KRAPP'S LAST TAPE is, of course, a groundbreaking classic by Samuel Becket--one of the greatest solo shows ever written for the stage. Jim Garrard, long-time artistic director of SALON Theatre, has imagined himself in the role ever since he first saw it in 1964, at Queen's, performed by Heiner Piller, directed by Fred Euringer. Jim's good friend the late and great Bob Nasmith performed the piece to great acclaim at Theatre Passe Muraille not long before he died. SALON's production is dedicated to his memory.
Jim Garrard trained as an actor at Queen's University Drama Department and London Academy of Music and Dramatic Art (LAMDA). He self-identifies as a playwright, although during the past 60 years he has acted, directed, managed, administered, marketed, fund-raised in aid of numerous theatre, film and arts funding enterprises. Jim is founding Artistic Director of Theatre Passe Muraille and SALONTheatre, former Executive Director of Toronto Arts Council, and King of Rochdale College.
Disclaimer: The presentation of live shows and events at Kingston Grand Theatre is subject to all provincial and public health guidelines in place at the time of the scheduled performance.
Venue
218 Princess Street
Kingston ON K7L 1B2
Canada