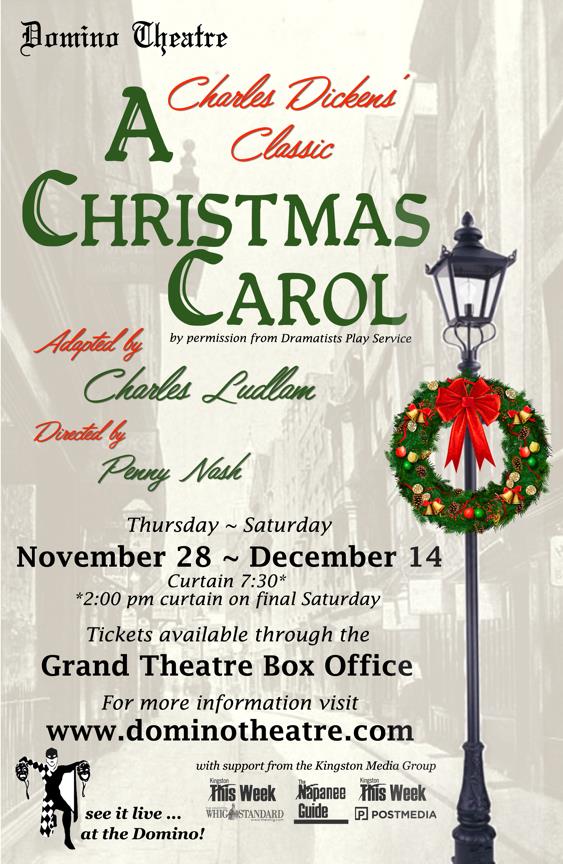 A Christmas Carol by Charles Ludlam
Based on the story by Charles Dickens

DIRECTED BY PENNY NASH
A ridiculous but surprisingly faithful rendition of the Dickens classic. Ebenezer Scrooge is haunted by the ghosts of Jacob Marley, Christmas Past, Christmas Present, and the Spirit of Christmas Yet to Come. Faced with his own mortality and the evil results of his misanthropic, miserly ways, Scrooge is redeemed, reconciled with his nephew and his neighbours, and becomes a second father to his assistant's son, Tiny Tim. Ludlam finds the humour as well as the pathos in this Victorian melodrama.
CAST:
Scrooge - Daniel Robinson
Cratchit - Kevin Shipley
Marley's Ghost/others - Paul Butler
Christmas Past/others - Bill Morrow
Christmas Present/others - Scott Arsenault
Christmas Future/others - Joshua Brennan
Nephew/others -  Will Smith-Blyth
Tiny Tim - Jayden Smith / Isla Oatway
1st Gentleman/others - Phil Perrin
Old Joe/others - Terry Wade
Peter Cratchit/ others - Ryerson Huntly
Mrs. Cratchit/others - Hayley Scanlan
Mrs. Dilber/others -  Adelina Pecchia
Fezziwig/Grandpa Miner/1st Businessman/Man A - Dick Miller
Bag Lady/Mrs. Fezziwig - Eva Barnes
Party Guest/dancer/singer - Hayley Hudson
Mother/others -  Michelle McNichol
She/others - Whitney Purdy
Girl/Niece/others - Antonia Sidiropoulos
Martha Cratchit/others - Emily Maxam
Belinda Cratchit/others - Tessa Vaillancourt
Plump Beauty/others - Esme Purdy
Children - Victoria Castro, Maddy Castro, Tegan Huntly, Lyra Branscomb, Eden Branscomb, Desmond Branscomb, Oliver Archer
Dancer/Caroler - Allison Archer
Venue
52 Church Street
Kingston ON K7L 4X8
Canada