Dear Domino Theatre Patron,

Given the continued rise of COVID-19 cases in Kingston, and the provincial government's new restrictions on live performances, Domino Theatre has made the difficult decision to cancel its productions of The Savannah Sipping Society and Holmes and Watson. 
This decision was not made lightly, and with the hope to be able to return to the stage as soon as it is safe to do so.
We apologize for any inconvenience this may cause you.
Tickets may be converted to a credit to use for a future Domino Theatre production, donated to Domino Theatre or refunded to the credit card of your choice.

We need to hear from you - requests regarding credits, donations and refunds can be made by e-mail at grandtheatre2@cityofkingston.ca OR by phone 613-530-2050, Monday to Friday 12noon until 4:30pm.  Kingston Grand Box Office is closed to walk in service at this time.
We are experiencing a high level of requests, please be patient.
NOTE: We cannot automatically refund cards as to be PCI compliant credit card information is not stored by Kingston Grand Theatre nor our ticketing platform TixHub.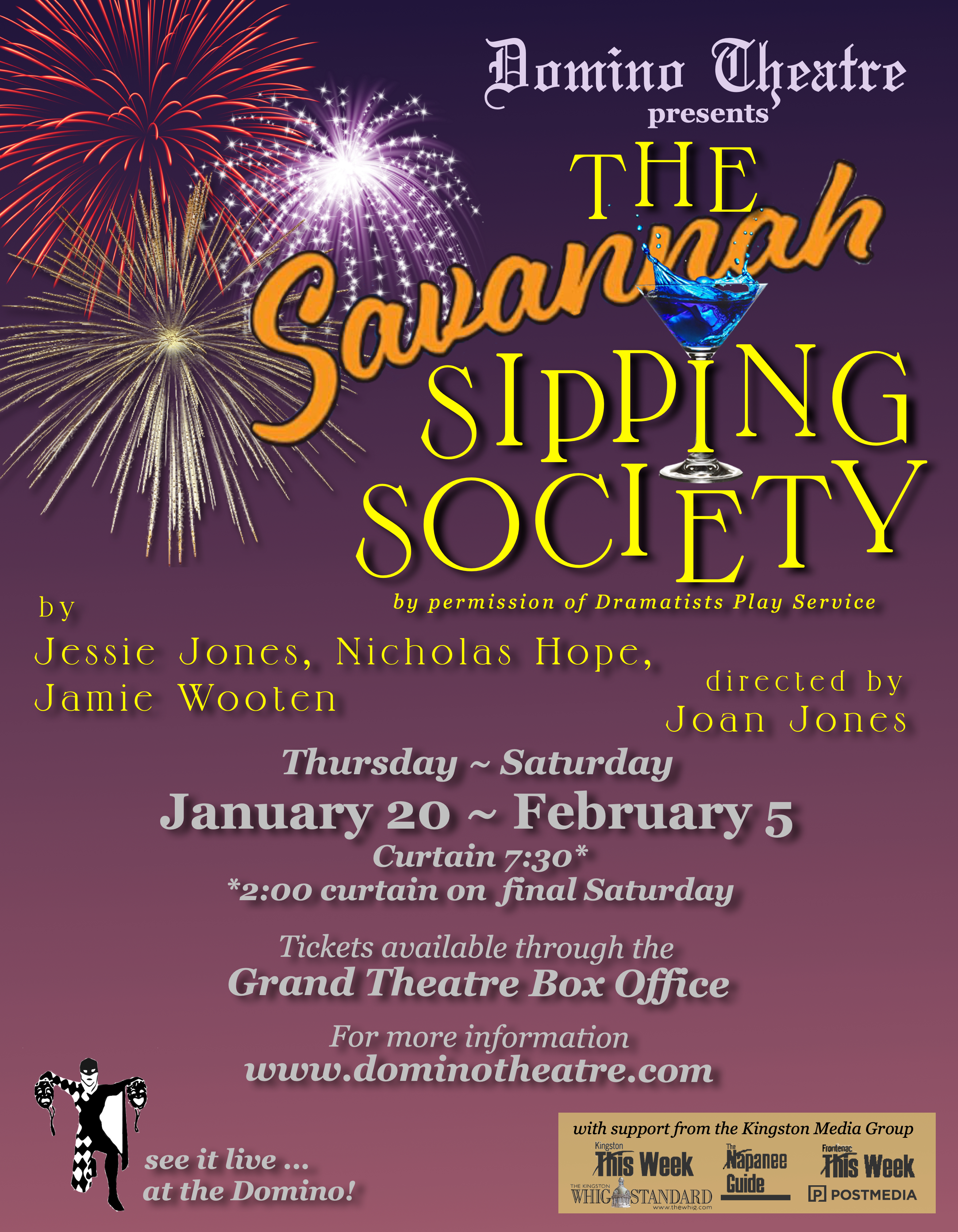 The Savannah Sipping Society
by Jessie Jones, Nicholas Hope & Jamie Wooten
Jan. 20-Feb. 5, 2022
DIRECTED BY JOAN JONES: Four unique Southern women are drawn together by Fate—and an impromptu happy hour—and decide it's time to reclaim the enthusiasm for life they've lost through the years. Randa, a perfectionist and workaholic, is struggling to cope with a surprise career derailment that reveals she has no life and no idea how to get one. Dot, still reeling from her husband's recent demise and the loss of their plans for an idyllic retirement, faces starting a new life from scratch—and all alone. Marlafaye, a good ol' Texas gal, has blasted into Savannah after losing her tom-cattin' husband to a 23-year-old dental hygienist. Jinx, a spunky ball of fire, offers her services as a life coach for these women—but overlooks the fact that she's the one most in need of sage advice.
Disclaimer: The presentation of live shows and events at Domino Theatre is subject to all provincial and public health guidelines in place at the time of the scheduled performance.
Venue
52 Church Street
Kingston ON K7L 4X8
Canada