To comply with Province of Ontario regulations, residents 12 and older will need to show proof they are fully COVID-19 vaccinated to enter theatres starting September 22, unless an exemption applies.
All volunteers and patrons of Domino Theatre should be prepared with an electronic or paper copy of their COVID-19 vaccination receipt indicating that they are fully vaccinated AND matching Government-issued identification with name and date of birth. These items will be verified, but not collected.
We are thrilled to reopen Domino Theatre and appreciate everyone's patience as our cast of volunteers implement this new provincial requirement as efficiently as possible.
For additional details on the Domino Theatre COVID 19 safety plan, please visit our website. For additional details on the Ontario COVID 19 Vaccination requirement, please visit ontario.ca/covid-19.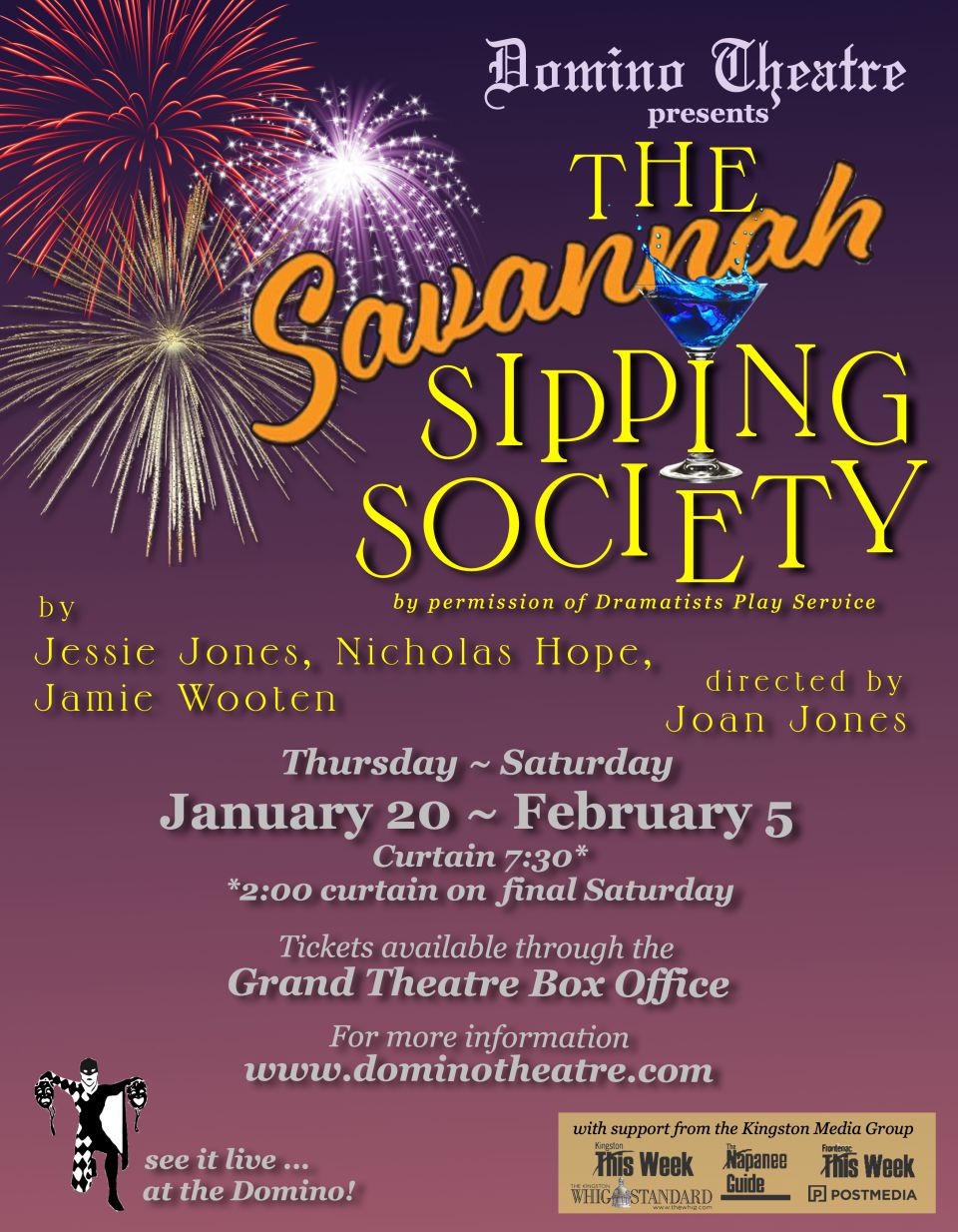 The Savannah Sipping Society
by Jessie Jones, Nicholas Hope & Jamie Wooten
Jan. 20-Feb. 5, 2022
DIRECTED BY JOAN JONES: Four unique Southern women are drawn together by Fate—and an impromptu happy hour—and decide it's time to reclaim the enthusiasm for life they've lost through the years. Randa, a perfectionist and workaholic, is struggling to cope with a surprise career derailment that reveals she has no life and no idea how to get one. Dot, still reeling from her husband's recent demise and the loss of their plans for an idyllic retirement, faces starting a new life from scratch—and all alone. Marlafaye, a good ol' Texas gal, has blasted into Savannah after losing her tom-cattin' husband to a 23-year-old dental hygienist. Jinx, a spunky ball of fire, offers her services as a life coach for these women—but overlooks the fact that she's the one most in need of sage advice.
Disclaimer: The presentation of live shows and events at Domino Theatre is subject to all provincial and public health guidelines in place at the time of the scheduled performance.
Venue
52 Church Street
Kingston ON K7L 4X8
Canada