Dec 15. 2021 - out of an abundance of caution as a result of the rising COVID cases in our community, the remaining performances have been CANCELLED.  Please contact Kingston Grand Box Office to donate your ticket funds to Domino Theatre, receive a credit to use at a later time or process a full refund to a credit card.
NOTE: Credit cards cannot be automatically refunded as to be PCI compliant credit card information is not stored by Kingston Grand Theatre nor our ticketing platform TixHub.
Kingston Grand Box Office is available by phone Mon - Fri from 12noon until 4:30pm at 613-530-2050.  Please be patient, we are experiencing a high volume of calls.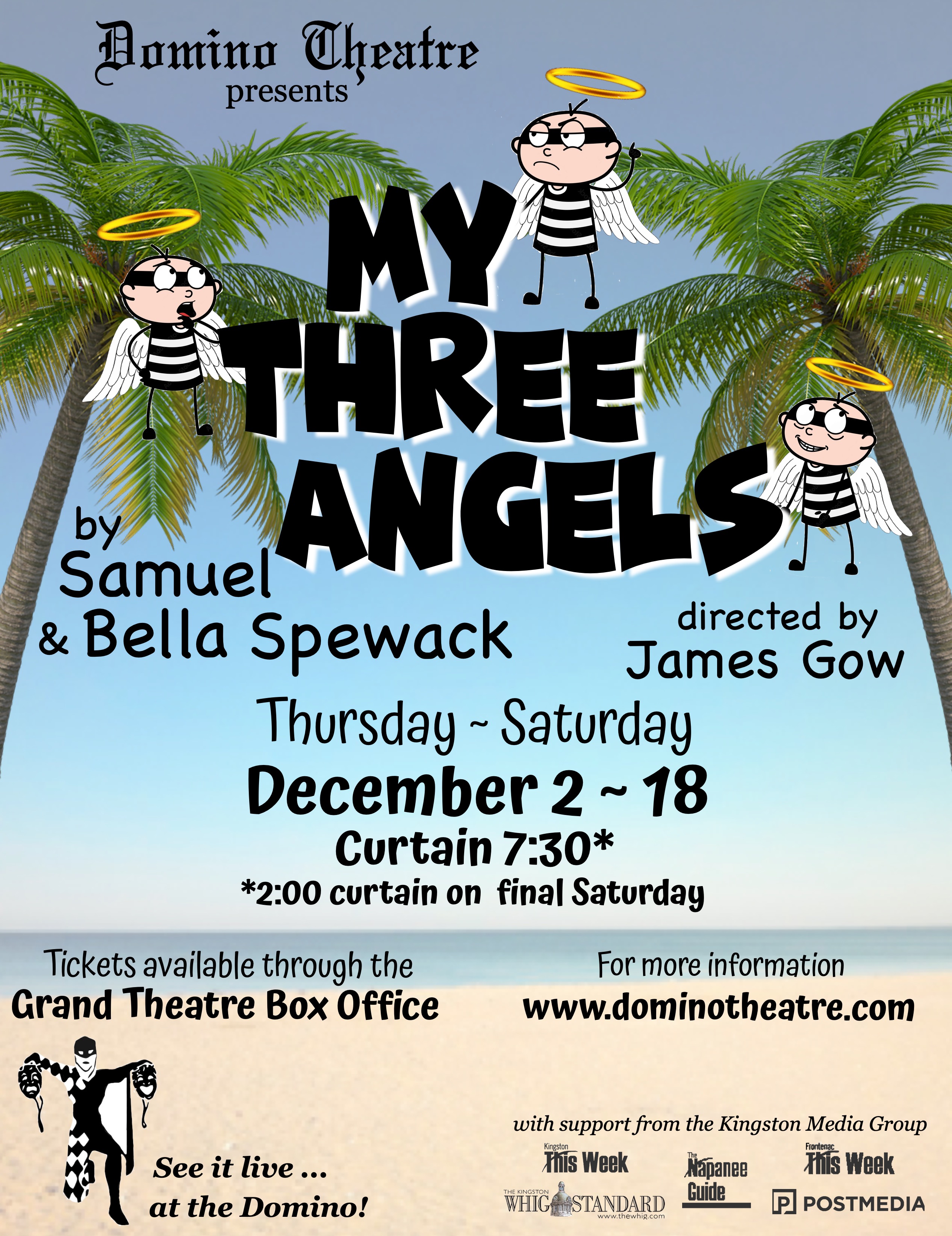 To comply with Province of Ontario regulations, residents 12 and older will need to show proof they are fully COVID-19 vaccinated to enter theatres starting September 22, unless an exemption applies.
All volunteers and patrons of Domino Theatre should be prepared with an electronic or paper copy of their COVID-19 vaccination receipt indicating that they are fully vaccinated AND matching Government-issued identification with name and date of birth. These items will be verified, but not collected.
We are thrilled to reopen Domino Theatre and appreciate everyone's patience as our cast of volunteers implement this new provincial requirement as efficiently as possible.
For additional details on the Domino Theatre COVID 19 safety plan, please visit our website. For additional details on the Ontario COVID 19 Vaccination requirement, please visit ontario.ca/covid-19.
My Three Angels
by Samuel & Bella Spewack
Dec. 2-18, 2021
DIRECTED BY JAMES GOW: The scene is French Guiana, a region where on Christmas day the temperature has graciously dropped to 104 degrees. Three convicts are employed as roofers by a family whose roof is in desperate need of maintenance.  On the way from France is an evil-minded cousin, to oust the father of the family from his business, and his cold-blooded nephew, who is jilting the father's daughter for an heiress. The three convicts - two of them murderers, the third a swindler - take the visitors on.  All three have warm hearts and are passionate believers in true justice. Possessing every criminal art and penal grace, they set matters right and in doing so redeem themselves as real life angels to the grateful family.
Disclaimer: The presentation of live shows and events at Domino Theatre is subject to all provincial and public health guidelines in place at the time of the scheduled performance.
Venue
52 Church Street
Kingston ON K7L 4X8
Canada