Dear Domino Theatre Patron,

Given the continued rise of COVID-19 cases in Kingston, and the provincial government's new restrictions on live performances, Domino Theatre has made the difficult decision to cancel its productions of The Savannah Sipping Society and Holmes and Watson. 
This decision was not made lightly, and with the hope to be able to return to the stage as soon as it is safe to do so.
We apologize for any inconvenience this may cause you.
Tickets may be converted to a credit to use for a future Domino Theatre production, donated to Domino Theatre or refunded to the credit card of your choice.

We need to hear from you - requests regarding credits, donations and refunds can be made by e-mail at grandtheatre2@cityofkingston.ca OR by phone 613-530-2050, Monday to Friday 12noon until 4:30pm.  Kingston Grand Box Office is closed to walk in service at this time.
We are experiencing a high level of requests, please be patient.
NOTE: We cannot automatically refund cards as to be PCI compliant credit card information is not stored by Kingston Grand Theatre nor our ticketing platform TixHub.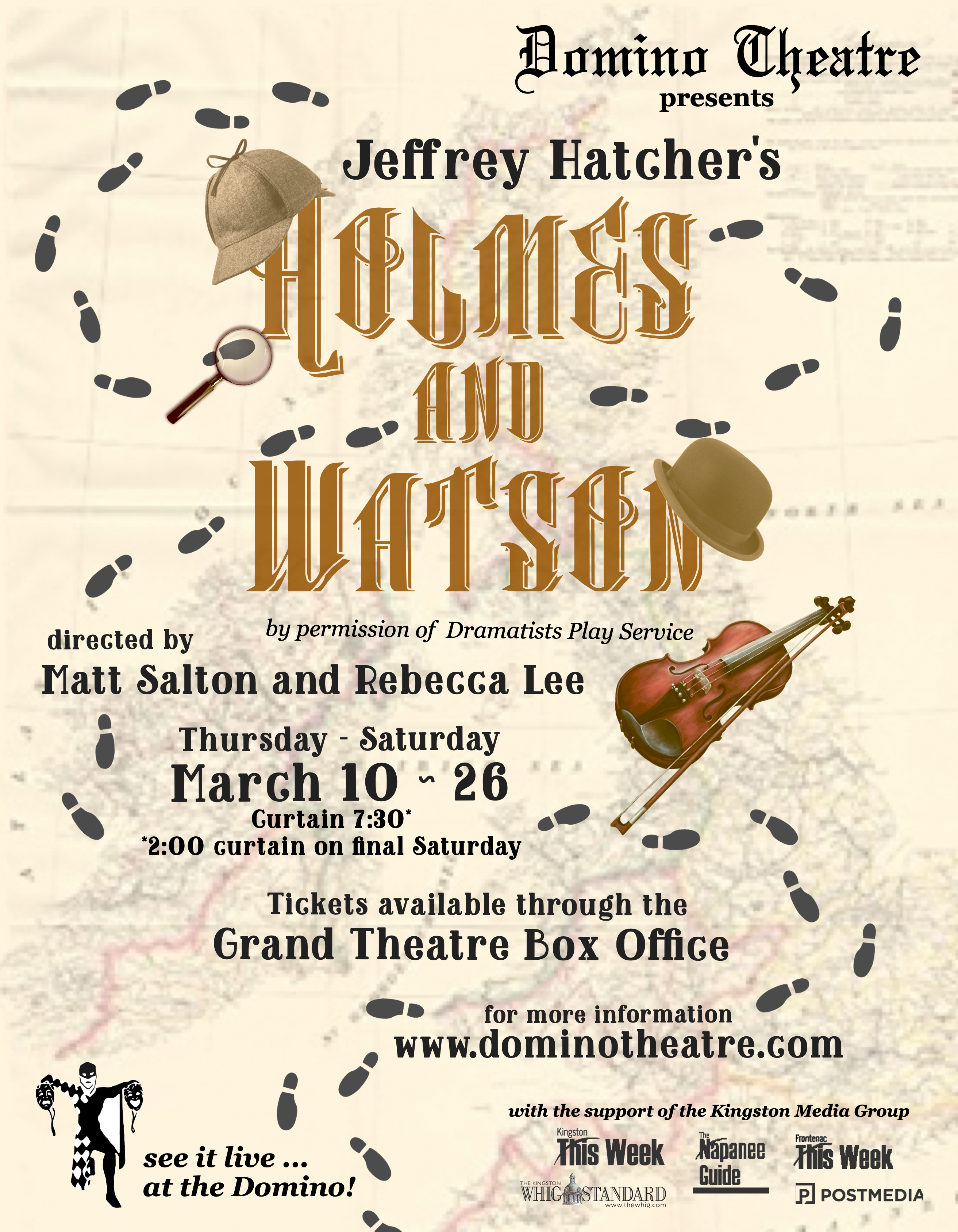 Holmes and Watson
by Jeffrey Hatcher
March 10-26, 2022
DIRECTED BY MATT SALTON & REBECCA LEE: Sherlock Holmes is dead. Or so it is assumed. The world knows the great detective went over the falls at Reichenbach with his nemesis Professor Moriarty. But as Holmes' body was never retrieved, a number of frauds, fakes, and charlatans have come forward since to lay claim to his identity, and it falls to Dr. Watson to disprove them. Then a telegram arrives informing Watson that three men, each claiming to be Holmes, have been committed to a remote asylum off the coast of Scotland. Now Watson must discover if one of the mad men is the real Sherlock Holmes.
Disclaimer: The presentation of live shows and events at Domino Theatre is subject to all provincial and public health guidelines in place at the time of the scheduled performance.
Venue
52 Church Street
Kingston ON K7L 4X8
Canada