This show has been cancelled. We apologize for any inconvenience this may cause you.
Please contact the box office by phone at 613-530-2050 to receive a credit for a future Domino Theatre performance or a full refund.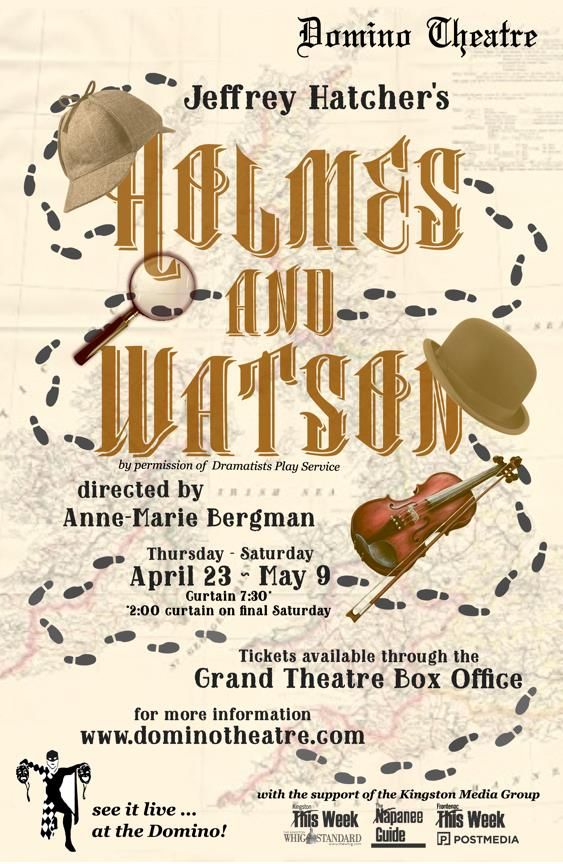 DIRECTED BY ANNE-MARIE BERGMAN
Sherlock Holmes is dead. Or so it is assumed. The world knows the great detective went over the falls at Reichenbach with his nemesis Professor Moriarty. But as Holmes' body was never retrieved, a number of frauds, fakes, and charlatans have come forward since to lay claim to his identity, and it falls to Dr. Watson to disprove them. Then a telegram arrives informing Watson that three men, each claiming to be Holmes, have been committed to a remote asylum off the coast of Scotland. Now Watson must discover if one of the mad men is the real Sherlock Holmes.
 
Please note there will be no intermission during the performance
CAST:
(Note: Roles are not identified to protect the innocent.)
Matt Davis
Terry Wade
Dave Hudson
Robin deKline Stimpson
Michael Flavin
Walt Freeman
Richard Palimaka
Graeme Watson
Doug Stewart
Venue
52 Church Street
Kingston ON K7L 4X8
Canada