All remaining performances are now sold out (Fri Jan 24).
* 2 pm curtain on the final Saturday.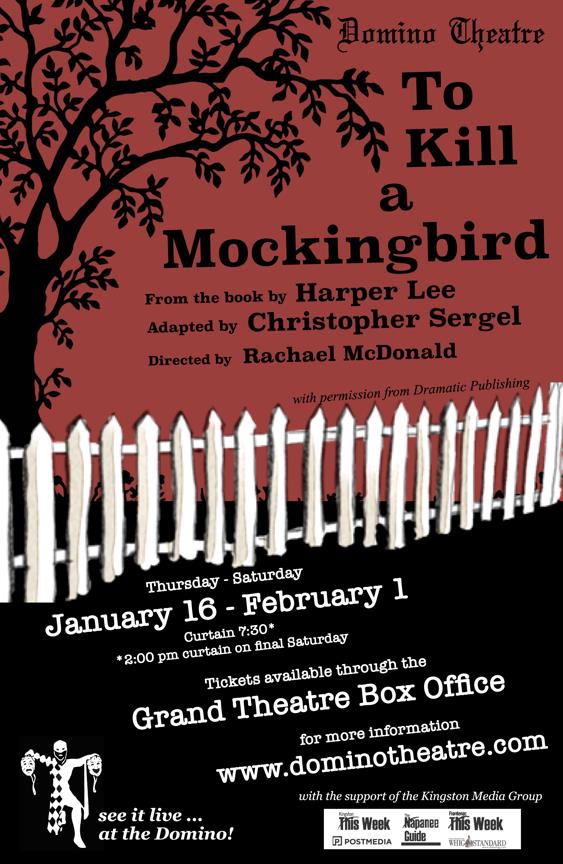 To Kill a Mockingbird
by Christopher Sergel based on the novel by Harper Lee

DIRECTED BY RACHAEL MCDONALD
Adapted from the Pulitzer Prize-winning novel, To Kill a Mockingbird opens in a sleepy Alabama town in the midst of the Great Depression, where Scout and her brother, Jem, live with their widowed father, Atticus Finch. The play immerses us in a simpler time as the children play outside in the summer, act out stories and muse about their mysterious neighbour, Boo Radley. The facade of the seemingly peaceful town begins to crack when a young black man is accused of a terrible crime. Driven by an unshakeable moral conviction, local lawyer Atticus defends the man in a trial that sends violent waves through the community. Timeless and lingering, this hard-hitting work explores prejudice, compassion and the courage to do what is right.
CAST:
Atticus Finch – Donald Mitchell
Scout Finch – Chloe Rioux
Jem Finch – Kieran Chenier
Calpurnia – Lisah Slack
Dill – Graeme McKee
Maudie Atkinson – Cathy Griffin
Walter Cunningham – Ken Sparrow
Reverend Sykes – Johnny Jordan
Heck Tate – Lloyd Balme  
Stephanie Crawford – Cindy Chappell
Boo Radley – Connor Rombough
Mrs. Dubose – Lynn Kerr
Tom Robinson – Zhyon Headley  
Judge Taylor – John Geddes  
Mr. Gilmer – Dylan Chenier
Bob Ewell – Garrett McCrea
Mayella Ewell – Esme Purdy  
Clerk/Third Man – Deryck Monsour
Fourth Man – Ian Butler  
Court Spectators/Townspeople – Barbara Gillespie, Jane Saunders, Ashley Stacoviak
Congregation – Douglas Connor
Boy's Voice – Elijah Reesor
Venue
52 Church Street
Kingston ON K7L 4X8
Canada