To purchase a multi-day pass, please select a ticket for both days and change your ticket type to 2 DAY to receive your savings.
Queens University students - enter GAELS as your password or code when selecting a seat to receive your student rate.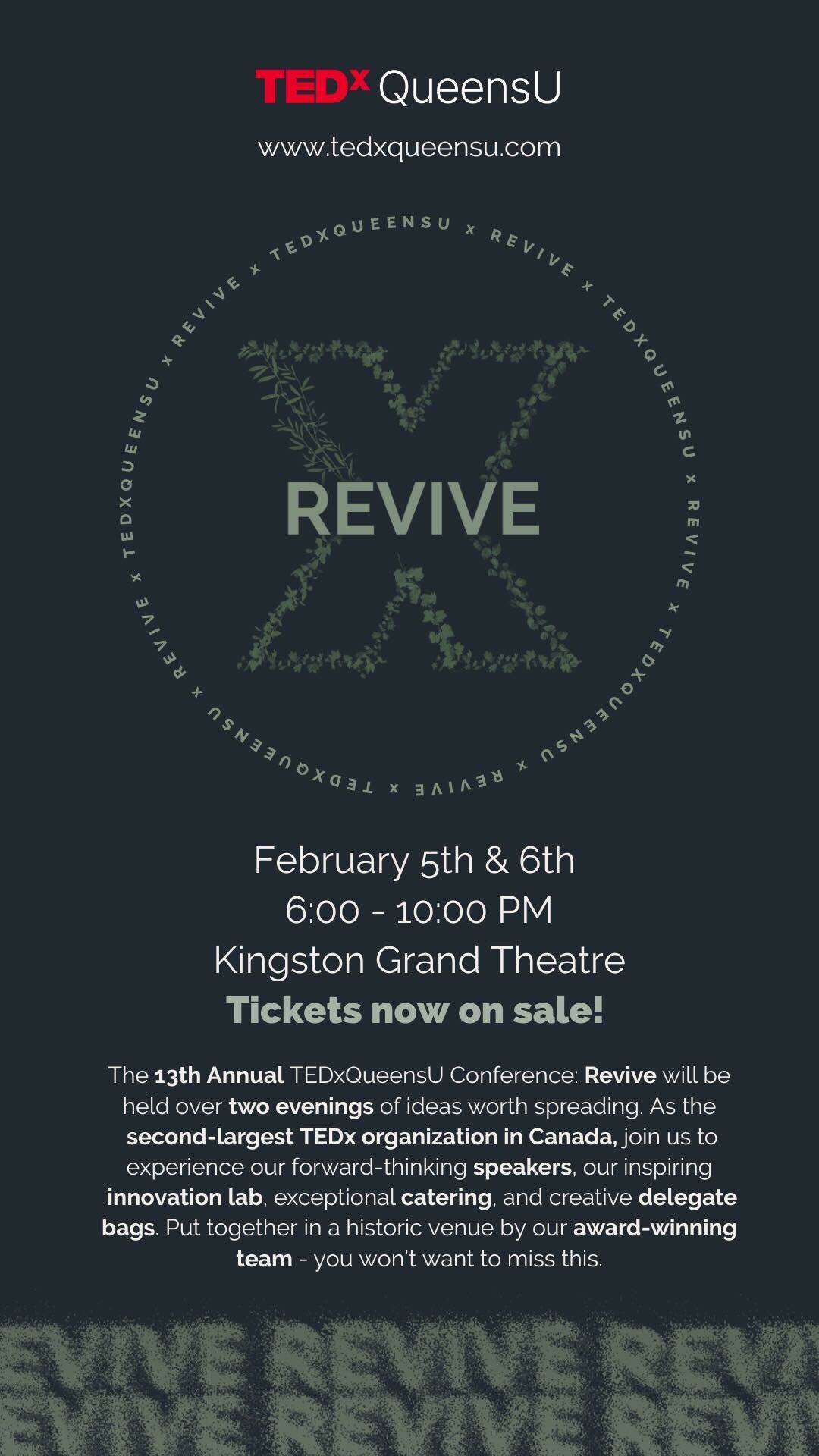 Welcome to the 13th Annual TEDxQueensU Conference: Revive! The event will be held in the beautiful Kingston Grand Theatre, on February 5th and 6th.
We are recognized for inspiring and educating the Kingston Community by providing a platform for forward-thinking leaders and a space for delegates to discuss and spread innovative ideas. Our speakers deliver their ideas in iconic TEDx talks, influencing delegates to make positive change by enacting their own "ideas worth sharing." Our Innovation Lab will provide an additional opportunity for delegates to engage with one another during intermissions.
With this being our first year back in person since over 2 years ago, we plan to revive the community spirit of the Kingston community. We will explore the role of unexpected obstacles in achieving personal growth. We will ponder the factors that motivate individuals to bounce back from challenges in their personal pathways and pay homage to the special human ability to demonstrate resilience in the face of adversity.
Check out YouTube for past talks: https://www.youtube.com/@TEDxTalks
This event is general admission, you choose your seat when you arrive for the event.
Ticket Prices
1 Day General $25 plus HST and handling fee (for either the 5th or 6th)
Multi-Day General $40 plus HST and handling fee (covers both the 5th and 6th you must select a ticket for each day and change the ticket type to 2 DAY)
2023 Speakers
NIGHT 1:
MICHELLE CHUBB - Indigenous Activist, Influencer, and Model Michelle, aka Indigenous Baddie, uses TikTok & Instagram to educate others about Indigenous life and issues while being a first-time mom. Through the platforms, she shares her culture, talks about the history of Canada while tackling stereotypes, and encourages others to reconnect with their roots.
DALITSO RUWE - Queen's University Professor of Black Political Thought Dalitso holds a joint appointment as an Assistant Professor in the Philosophy and Black Studies Departments at Queen's University. His research is grounded in the fields of Africana Philosophy, Critical Race Theory and Black Male Studies, and he explores the cultural, socio-political, and legal attitudes that arise in the aftermath of the death of Black males killed by police officers and vigilantes. His work illuminates how social movements are repressed by legal apparatuses from protesting the deaths of Black males. Outside of academic research, Dalitso enjoys playing pool, basketball and watching sci-fi movies.
CALDER SCHWEITZER - Executive Director of Thousand Islands Watershed Land Trust  Calder Schweitzer carries a passion for nature and conservation, a love of animals, and a desire to see the world's natural wonders protected in perpetuity. He has a B.Sc. in Wildlife Biology and Conservation from the University of Guelph. Calder now works as the Executive Director of the Thousand Islands Watershed Land Trust, an organization that helps landowners conserve their properties by turning them into protected areas. Calder believes that focused, local, conservation work is the key to conserving our precious biodiversity and protecting our communities from the effects of the climate crisis.
KATHARINE JEKIC - Queen's Astrophysics  Katharine, an astrophysics major at Queen's University, developed her profound interest in astronomy and physics at a young age. She understands that university is the playground of the privileged, but that interest and daily experience in science is common across the board. Driven by her experiences in STEM, she has a passion for fostering inclusivity and diversity within a community known historically as elitist. Katharine's experience is influenced by her social circumstances, which brings a unique perspective to academia.
AUSTIN LAYNG - Queen's Law Student  Austin is a second-year law student at Queen's University who strives to bring a growth mindset to all his experiences. During his undergrad at York University, he gravitated towards Aboriginal law, and he presented his writing at the Work and Labour Studies conference. In his spare time, Austin likes to stay active physically and mentally by bodybuilding training, meditating, and attending yoga classes.
NIGHT 2:
NAIMAH BHURUKU - Diversity, Equity, Inclusion Specialist at NASA Naimah is a Haitian American woman native of Southern New Jersey. A child of immigrant parents, she was born and raised Muslim. Naimah is a passionate diversity, equity, inclusion and accessibility practitioner at NASA. Her journey of seeking a sense of connection and navigating through grief and loss as a cancer survivor/thriver deepened her curiosity of herself and others. These experiences propelled her to live a life aligned and steeped in purposeful presence with balance and unapologetic radical joy.
JANINE CHARRON - Former National Women's Hockey League Player  Janine is from Ottawa, Ontario, Canada. She is the creator of the T.I.G.E.R. method, a breast cancer survivor, the founder of iNSiDE Out STUDiO Barre, a former National Women's Hockey League and NCAA Division 1 Ice Hockey player, an inspirational speaker and writer, and a mother of three. Janine is a lover of all things tiger-related and chocolate.
DAN DESJARDINS - CEO of Distributive  Dan is the CEO of Distributive, the Kingston-based company developing the Distributive Compute Protocol (DCP), a next-generation distributed computing platform built on web technology.. Dan has a PhD in Physics from Queen's University. He served 18 years in the Royal Canadian Air Force as a search and rescue pilot and as an Assistant Professor of Physics and Space Science at the Royal Military College of Canada. Pursuing a childhood dream, Dan ranked among the top hundred candidates during Canada's 2016 astronaut recruitment campaign.
JAMES McNUTT - Education Expert and Accessibility Advocate  James, from Edmonton and High River, Alberta, is a Cultural Studies PhD Student at Queen's University. His academic background includes three degrees from Queen's University: BA (History), BEd (IS History and English), and MEd (History of Education). Additionally, he has an MA from the University of Toronto (History).  Given James's diverse background, Cultural Studies is a fertile environment to explore his various interests. The primary focus of his research is the history of post-secondary curriculum in Canada and its impact on the wider society.
DR. SARA NABIL - Queen's University Assis. Professor of Interaction Design  Dr. Nabil is an Assistant Professor of Human-Computer Interaction (HCI) and Interaction Design at the School of Computing at Queen's University, and the founder and director of the iStudio Research Laboratory. Hailing from Egypt, her background includes both a BSc(Hons) and MSc in Computer Science and a PhD in HCI from Newcastle University (UK). Her great passion for interior design coloured her research in interaction design, and is driving her innovation of smart homes and interactive furniture in novel ways. To do so, Sara and her team develops soft sensors, fabric circuits, e-textiles and smart materials that are malleable, shape-changing, and colour-changing. Her innovative techniques and digital fabrication methods have been frequently patented and/or academically published to facilitate the design of everyday computational objects, wearables, surfaces, and spaces in calm and ubiquitous technology. Her work aims to support the living quality of marginalized groups such as refugees, people with dual-identities, and people with physical disabilities. During this journey, Sara achieved her childhood dreams and was awarded several 'Best Design' Awards, and her interactive installations have been displayed at a number of exhibitions worldwide.
Venue
218 Princess St.
Kingston ON K7L1B2
Canada