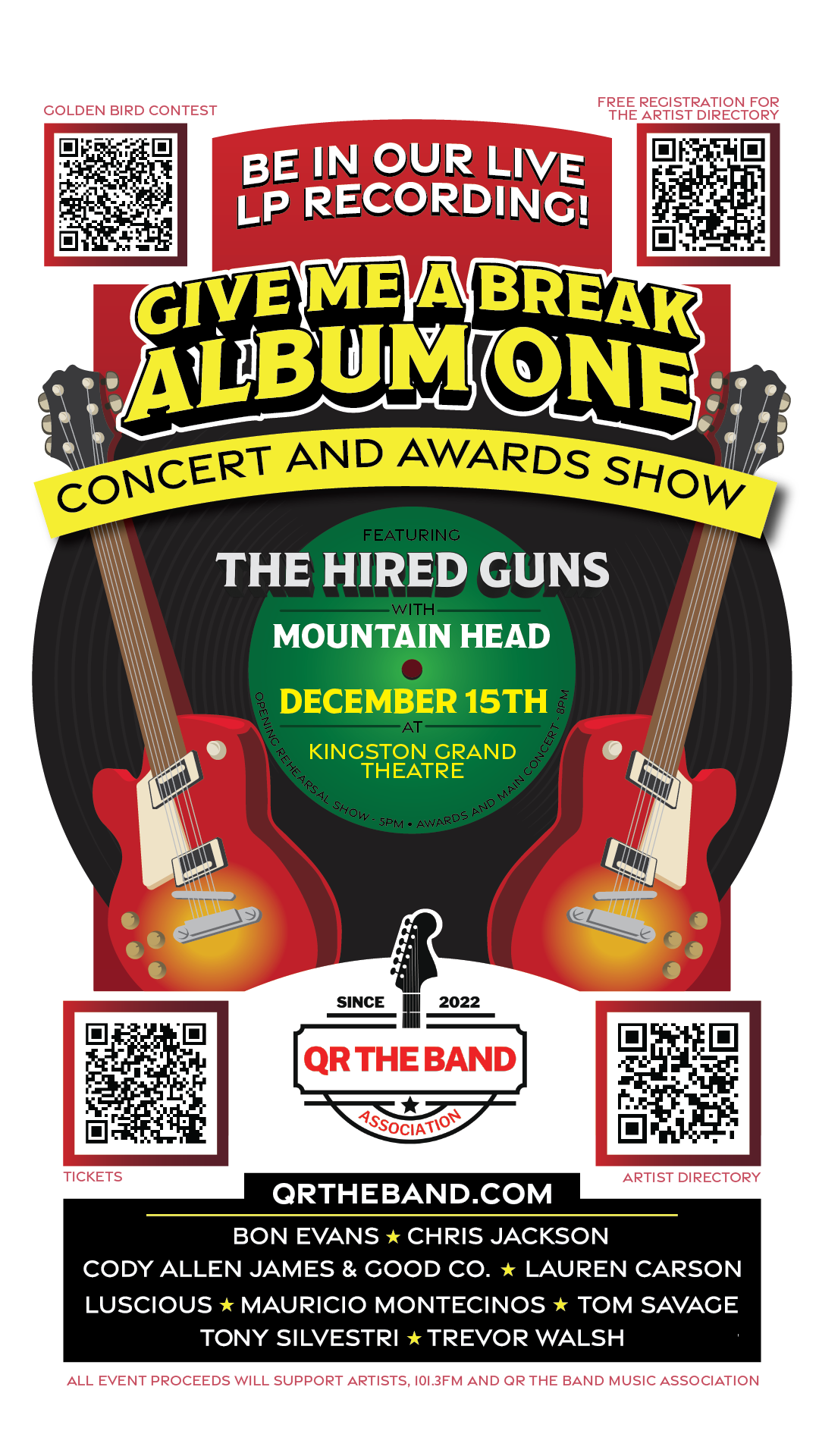 Awards and Concert - 6pm
Featuring: THE HIRED GUNS, Mountain Head, Bon Evans, Chris Jackson, Cody Allen James & Good Co., Lauren Carson, Luscious, Mauricio Montecinos, Tom Savage, Toni Silvestri, Trevor Walsh and special guests.
We're passionate about helping bands find their creative voice. Founded in 2022, QR THE BAND Music Association is a non-for-profit organization that aims to help artists thrive in a hyper-competitive environment using an innovative model to disrupt music industry standards. We're here to make your life easier. Register in QR THE BAND's Artist Directory for free (www.qrtheband.ca) and consider applying for a chance to receive one song professionally recorded at no cost to the artist/band. The free-to-use Artist Directory is a platform that assists musicians in earning a decent living. The Artist Directory hosts artists' electronic press kits (EPKs) so that it is easier for music industry professionals such as managers, booking agents, venues, promoters, journalists, and community members to access your work, book you for shows, tip you through your page, highlight your accomplishments in the media and more. In addition, through an array of exciting music studios throughout Kingston and surrounding area, QR THE BAND helps successful applicants receive free audio and video studio recording time guided by seasoned professionals. Each year, these select artists will showcase their music at the Give Me a Break Album Series at Kingston Grand Theatre.
Join us for our first annual event on December 15th 2022! Support local artists, witness emerging and established musical talent and enjoy the tunes these artists put their heart into.
NOTE TO ALL AUDIENCE MEMBERS: The event will be video recorded, live, as part of our Music Documentary Initiative featuring the local artists. All audience members will be in the recording and, by attending, agree to being filmed for the duration of the event. 
FOODBANK DONATIONS GREATLY APPRECIATED: Please consider donating non-perishable food items for the Partners in Mission Foodbank. Drop-off at the event entrance. For more information about what donations are needed/accepted, please visit: https://www.kingstonfoodbank.ca/giving/donate-food-bank 
Event proceeds will support artists, 101.3FM and QR The Band Music Association.
See file below titled 6pm Awards and Concert Price Map for price location.
Boxes & VIP - $88.50 + HST ($100) & handling fee = $104.15
A Section - $66.38 + HST ($75) & handling fee = $79.15
B Section - $44.25 + HST ($50) & handling fee = $54.15
C Section - $17.70 + HST ($20) & handling fee = $24.15
Links to artists performing:
Pre-Show Event starting at 1pm
Join us at The Live Music Fund Seminar
What is it?
Free band and venue listings
Venues can hire bands at no cost to the venue
Musicians can earn the industry recommended fees
Your music played on www.radiofreestella.com
Your music played on www.cjai.ca local radio 101.3 FM
Come and find out how this is not just an idea or a plan.  It is real and you can be part of it.  Join us at Kingston Grand Theatre at 1pm on December 15th to register your band, yourself, your business or just to ask questions.
Register in advance here: https://www.qrtheband.ca/thelivemusicfundseminar
Looking for more details at the seminar at 1pm, check out this video: https://www.youtube.com/watch?v=irWt2O1lHrc
Venue
218 Princess St.
Kingston ON K7L1B2
Canada