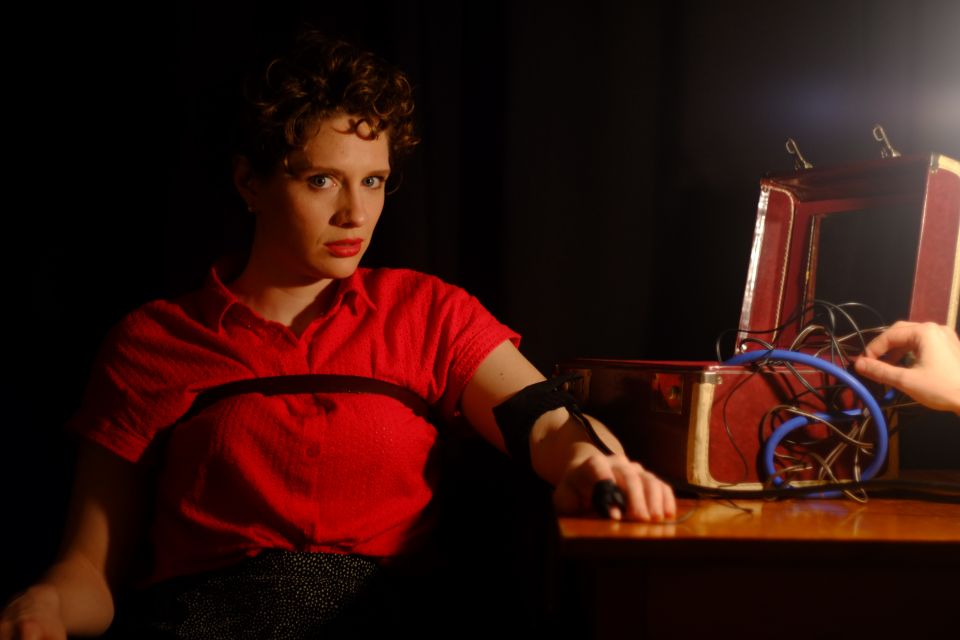 Public Mischief
Produced by Long Janice
45 minutes
A part of Theatre Kingston's Storefront Fringe Festival
Venue: Venue #1,  314 Bagot St in downtown Kingston
Performance times:
Friday, July 20 @ 9:30 PM
Saturday, July 21 @ 5 PM
Sunday, July 22 @ 3 PM
Wednesday, July 25 @ 9:30 PM
Thursday, July 26 @ 5 PM
Friday, July 27 @ 7:30 PM
Tickets: $10 + fees + $3 Fringe Pin (available at the venue)
Written / Performed: Alexandra Montagnese
Director: Taliesin McEnaney
Photo: Claire Ward-Beveridge
Do you love him?
Are you protecting him?
This true story takes us to 2007; the schools on lockdown, someone called 911, and rumours are spreading.
In the last months of high school, Alex faces serious allegations that could destroy her crowning moment on the most important night of her life.
Public Mischief takes us inside the crumbling reality of a very ambitious 17-year-old playwright, and high school it-girl, while she navigates the rocky terrain between truth and fiction in the first real romance of her life. Witness her process of untangling the truth with the help and hindrance of hallway rumours, giddy sisters, and one super-intuitive police officer. What will the human lie detector deduce? Who will her parents believe? But most importantly, when will she finally do it?
Venue
314 Bagot Street
Kingston ON K7K 3B4
Canada