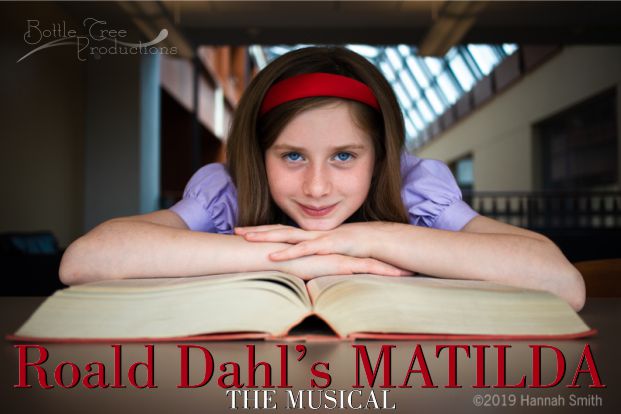 Bottle Tree Productions Presents:
Roald Dahl's
MATILDA
The Musical
Book: DENNIS KELLY
Music & Lyrics: TIM MINCHIN
Directed & Designed by Anne Marie Mortensen
Music Director: Michael Capon
Vocal Director: Ariel Zaichick
Choreographer: Susan Del-Mei
"The story of an extraordinary girl who, armed with a vivid imagination and a sharp mind, dares to take a stand and change her own destiny." (MTI)
This high-energy musical is based on Roald Dahl's classic children's book of the same name.
Matilda (Lilli McDonald) is an unwanted, misunderstood girl from a dysfunctional family who finds strength in her imagination and her friends - and discovers a special ability!
As well as living with the challenges of family life, Matilda is subjected to harsh treatment by the school headmistress, Miss Trunchbull (Anthony Kaduck). "The Trunchbull" is every child's nightmare; she is a medal-winning hammer thrower who towers above her students, whom she hates. Her special punishment is to imprison children in a tiny dark cage called "The Chokey".
Miss Honey (Andrea Ruttan) does her best for the children and tries to displace some of the cruelty in Matilda's life. Seeing the good in each child, she encourages them to develop their own strengths. Miss Honey is particularly taken with Matilda's intelligence and advocates for her exceptional student to the school administration and to Matilda's family.
This is a multi-award winning show with catchy, upbeat songs and dance numbers, terrific characters and a time-tested story. Share the magic with us at The Grand Theatre!
Venue
218 Princess St.
Kingston ON K7L1B2
Canada