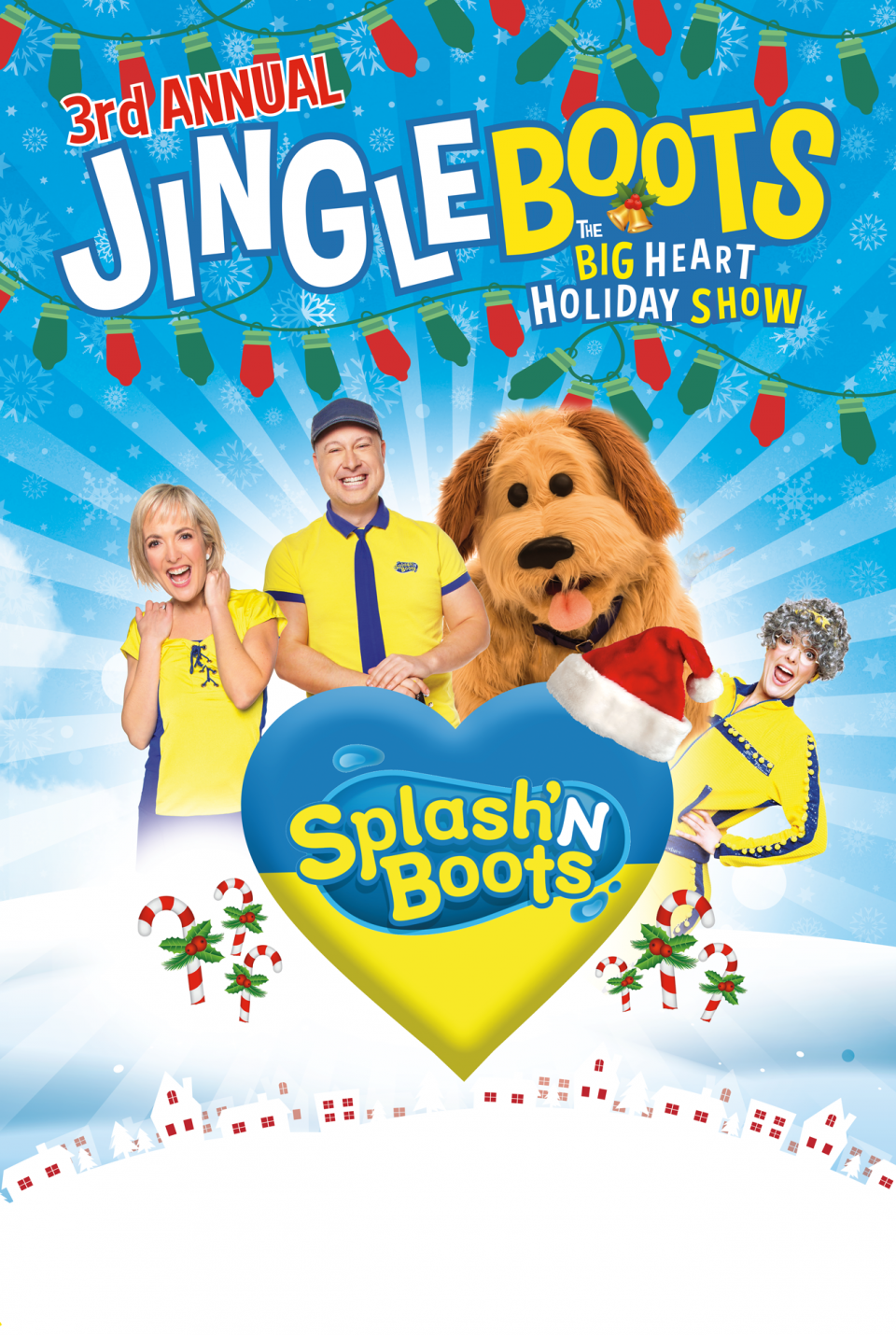 It's the most yellow and blue time of the year - it's time for the 3rd Annual Splash'N Boots BIG Yellow and Blue Holiday Show - JINGLE BOOTS - The Big Heart Holiday Show!
This year, we promise the show will be a blast - and, a show with a big HEART.

Splash'N Boots do what they do because they love to create a space for you to connect with your family. There is just no better time of year to be together as a family and community than the holiday season. A Splash'N Boots show isn't just entertainment - its a place for you to create happy moments and new memories, together.
Join the entire Big Yellow Boot Family as they celebrate the HOLIDAYS! Get dressed up in your favourite festive attire, and get ready to sing and dance along in this Big Yellow Boot Holiday extravaganza!
About SplashN Boots:
Splash'N Boots are creating a world that's all about connection - connection to self, to family and to the community.  They are a uniquely heart-centered live act - their live shows, original music, and television content are created with the intention to move and inspire children and families to connect through music, to be fully present with one another, and to experience laughter and joy together. Splash'N Boots mandate is to make every child feel seen, heard, and loved for exactly who they are. They rose to prominence in the hearts and minds of families through music, live shows, and television. Their music creates family dance parties; it is a soundtrack to bedtimes, meal-time and all of the moments in between.
Since their inception, SplashN Boots have released twelve original music albums, resulting in five consecutive JUNO Award nominations for Children's Album of the Year between 2014 and 2018. Their most recent album, You, Me and the Sea, co-written and produced by Alan Doyle, won the 2019 JUNO Award for Childrens Album of the Year. Their original music is enjoyed around the world, with over 1.5 million Streams on Spotify and 1 million on Apple Music across international markets.
On television, they appear daily in over 8.5 million homes across Canada with their number one TV show, which is broadcast daily on Canadas top children's television networks, Treehouse TV and Disney Jr. Canada. 31 of their original music videos are aired on the worldwide, parent-approved certified Safe- streaming platform KidoodleTV, and have garnered over 2 million views in the first year on the platform. SplashN Boots original music videos are featured on US TV network Universal Kids brand-new preschool music show, Get Up and Move.
Splash'N Boots are committed to using their voice to raise awareness for important causes. They are the creators and stewards of a uniquely powerful pen pal program geared towards children with autism, called Lucas's Letters, which encourages children of all ages and abilities to connect through letter-writing. With The Big Heart Award, they created a national movement of celebrating individuals who rise above life's challenges and give back to others. The Big Heart award was inspired by a fan named Nicholas who was being bullied at school, and yet still found room in his heart to share love and empathy with other children. They are the first children's act to partner with PLUS1, and $1 from every ticket sold in their Big Love, Kisses and Hugs Tour (2018) went to support access to music education and adaptive instruments for young children, via Musicounts.
Prices:
Admit One (children and adults) - $22.30 + HST ($25.20) & handling fee = $29.00
Admit One VIP (children and adults) - $35.13 + HST ($39.70) & handling fee = $43.50
Seniors (65 and over) - $19.65 + HST ($22.20) & handling fee = $26.00
Seniors VIP (65 and over) - $32.04 + HST ($36.20) & handling fee = $40.00
 
VIP tickets are the front 4 rows of the theatre. Rows A, B, C, and D, total VIP available: 98.
 
VIP tickets include premium seating in the first few rows of the theatre, a special gift and a meet and greet with Splash'N Boots after the show!

Babes in Arms are infants who have not celebrated their first birthday.  They receive a complimentary ticket to gain entrance.   Please call the box office (613.530.2050 M-S 12noon - 6 pm) to reserve your complimentary babes in arms ticket.  To read about our babes in arms policy, please visit https://www.kingstongrand.ca/tickets/ticketing-policy
Video of LIVE Promo reel: https://vimeo.com/345936606
Venue
218 Princess St.
Kingston ON K7L1B2
Canada