04Oct23 - New Dates Announced
November 20, 2023 – Kingston, ON: Grand Theatre
November 21, 2023 – Peterborough, ON: Showplace Performance Centre
November 22, 2023 – Toronto, ON: Danforth Music Hall
Cowboy Junkies dates originally scheduled for October 3 in Toronto, October 4 in Kingston, and October 5 in Peterborough have been rescheduled. 
Tickets for the October shows are valid for the November shows. 

03Oct23 - COWBOY JUNKIES Postpone Rest Of Ontario Tour
October 3, 2023 – Toronto, ON: Danforth Music Hall
October 4, 2023 – Kingston, ON: Grand Theatre
October 5, 2023 – Peterborough, ON: Showplace Performance Centre
Due to an outbreak of COVID in the band, Cowboy Junkies are forced to postpone their shows in Toronto, Kingston, and Peterborough. We will make an announcement shortly with rescheduled dates as soon as we are able to confirm. The band apologizes to all fans for any inconvenience this may cause.
All tickets will be valid for the rescheduled show dates.  
Once a new date is confirmed, ticket holders will be contacted again via an email from the Box Office.  Ticket holders are asked to hang onto their tickets until the new date is announced, at which time all ticketing options will be communicated.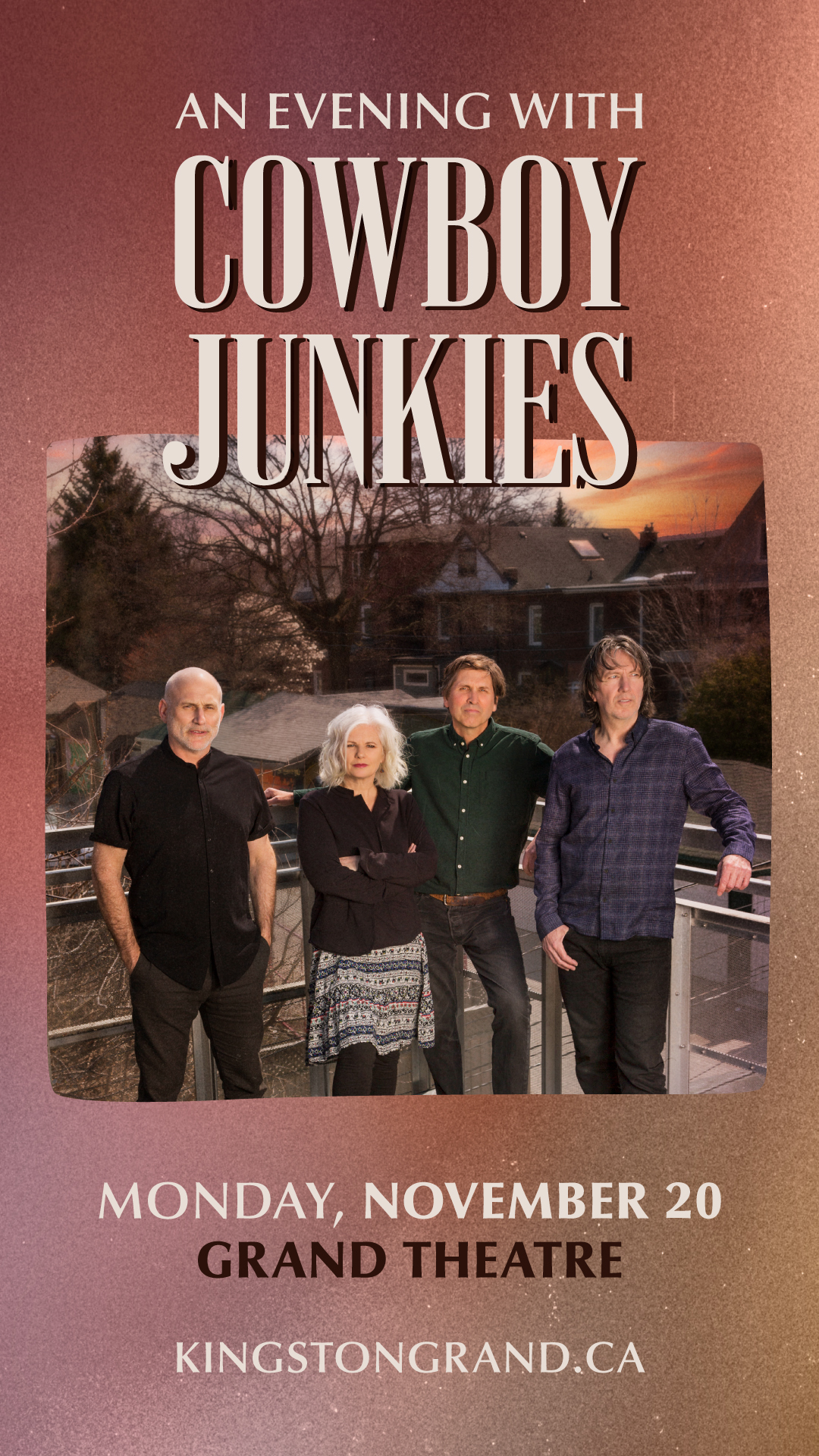 Sometimes revolutions begin quietly.

In 1988, Cowboy Junkies proved that there was an audience waiting for something quiet, beautiful and reflective. The Trinity Session was like a whisper that cut through the noise -- and it was compelling. It stood out in the midst of the flash and bombast that came to define the late 80's. The now classic recording combined folk, blues and rock in a way that had never been heard before and went on to sell more than a million copies.
Formed in Toronto in 1985 with siblings Michael Timmins on guitar, Margo Timmins on vocals, Peter Timmins on drums, and Michael's lifelong friend Alan Anton on bass, the band has sparkled over the course of 26 albums. "I've known Alan longer than I've known Pete," says Michael. "We were friends before Pete was born."
Unlike most long-lasting groups, Cowboy Junkies have never had a break up or taken a sanity-saving hiatus. There's an appreciation of each other that keeps them constantly working. "It's that intimacy and understanding of what each one of us brings to the table," says Michael.
Cowboy Junkies will release Such Ferocious Beauty on June 2, 2023, via Cooking Vinyl. This is the band's first release of new material in five years. Such Ferocious Beauty is vintage Cowboy Junkies and another dimension from the lo- fi Canadian band.
Presented by Paul Mercs Concerts.
On sale since Fri. Mar. 31, 2023,  at 12noon.
We ask all guests to be mindful of their purchases. Refunds and exchanges are not permitted and all sales are final.
https://www.kingstongrand.ca/tickets/ticketing-policy
Venue
218 Princess St.
Kingston ON K7L1B2
Canada