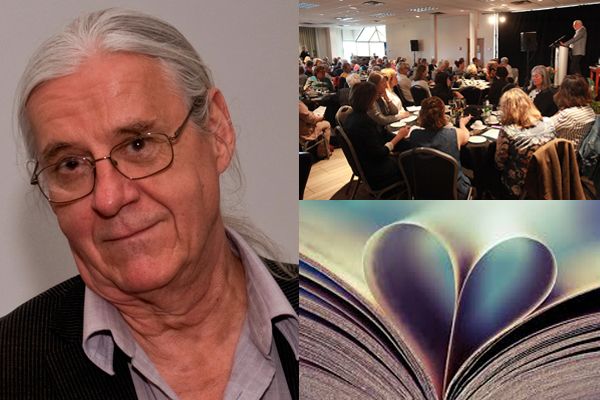 31. BookLovers Lunch
Solo Presentation
Ben McNally
We delight in presenting the charming Ben McNally, of Toronto's Ben McNally Books, to submit his latest installation of Preview Picks. With a lifetime career of recommending books to discerning readers,Ben knows whereof he speaks. In our popular Book Lovers Lunch, his relaxed delivery and fascinating anecdotes from the world of Canadian publishing have built him a devoted following at KWF. Bring a notepad and create this year's book club list! Buy early this event sells out quickly! Ticket price includes lunch. Cash bar.
MENU
SALAD: Tomato and cucumber salad garnished with bocconcini cheese, finished with a creamy basil dressing
MAIN: Choice of...
Fish - Lightly dusted cod fillets, pan seared and finished with a white wine and pistachio butter sauce
Regular - Pork tenderloin medallions with a peach and apple chutney
Vegetarian - Acorn squash stuffed with roasted sweet potato, ground veg crumble, zucchini, finished with arrabbiata sauce
DESSERT: Bumbleberry shortcake with caramelized sugar, whipped cream and maple glaze
Chef is happy to accommodate your request, and provide a GF option for you. Please email info@kingstonwritersfest.ca with details.
Saturday, September 29, 2018
Doors open at 12:00 noon; Luncheon 12:30 2:00 pm
Islandview
Venue
Holiday Inn Kingston Waterfront, Princess Street
Kingston ON K7L 1A2
Canada