SEPTEMBER 26, 2022 - 12:30 PM: WORKSHOP REGISTRATION HAS CLOSED. ALL PARTICIPANTS HAVE BEEN CONTACTED VIA EMAIL.
In celebration of the 2022-2023 Season Opener Defined By Love – Miss Emily's Kingston Grand Album Release on October 1st, Grand OnStage proudly presents a special opportunity for emerging female singer-songwriters (ages 15-22) to spend an evening listening, talking, and learning about the craft with Kingston's own 2022 Juno nominee, the extraordinary Miss Emily.  
What? A singer-songwriter workshop with Miss Emily 
Who? Emerging female singer-songwriters, ages 15-22 
When? Tuesday, September 27th, 2022, at 7 PM 
Where? Davies Lounge, Kingston Grand Theatre 
Questions? Please contact ArtsProgramming@cityofkingston.ca 
Limited workshop spots available by registration only on a first-come-first-served basis. Please use the RSVP form below. Workshop is free. Registration will remain open until Monday, September 26, 2022, at 12 pm EST, or when all workshop spots are filled- whichever comes first. Registrants who have been successfully placed in a spot will be notified by e-mail. If you do not receive a confirmation e-mail then you are not registered.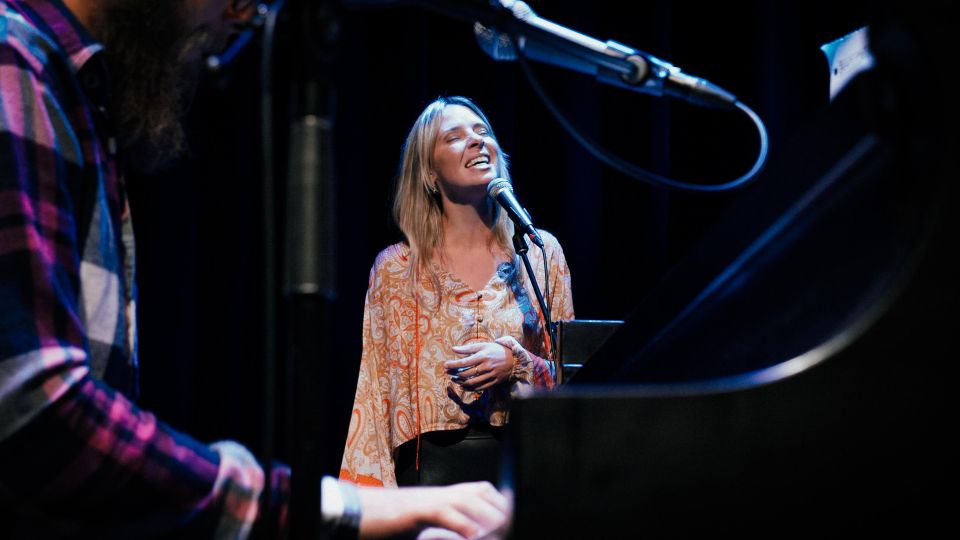 About Miss Emily
Miss Emily is Emily Fennell, a Prince Edward County singer-songwriter who's been performing for more than 20 years. She's recorded six studio albums, received a Juno nomination, and is a two-time Maple Blues Female Vocalist of the year as well as New Artist of the year and Sapphire Blues Video of the year. She continues to tour Canada, the US, the UK and Europe and has worked tirelessly for dozens of charitable organizations including the internationally renowned Light of Day Foundation for Parkinson's research 
Since 2019, Miss Emily has brought the house down at venues across Canada, the US, the United Kingdom and Europe. In her debut headlining appearance at the Kingston Grand Theatre on October 1st, Miss Emily will be joined on stage by her friends Rob Baker and Gord Sinclair, along with a backing band featuring some of Kingston's most sought-after musicians. This special performance will reveal her new album, "Defined By Love", played from start to finish, as well as fan favourites and a few special surprises. "Defined By Love", her third studio album, is a warts-and-all diary of lost relationships and found humanity produced by Juno award winner Steve Marriner. It features meditations on deception, resilience, pain and strength with co-writing by Rob Baker (The Tragically Hip) and the instrumental genius of Jimmy Bowskill (Blue Rodeo, The Sheepdogs); all grounded in a horn-drenched foundation of soulful blues and unparalleled vocals.  
Miss Emily was a Kingston Grand Theatre Local Artist-in-Residence in 2021, and she is a featured Grand OnStage Music Education Video Series artist. 
To learn more about Miss Emily, visit www.themissemily.com.