These performances will be taking place on a Kingston Transit bus!  The bus will pick people up infront of City Hall - there will be a banner for people to look for.  Running time is approximately 1 hour and 30 minutes.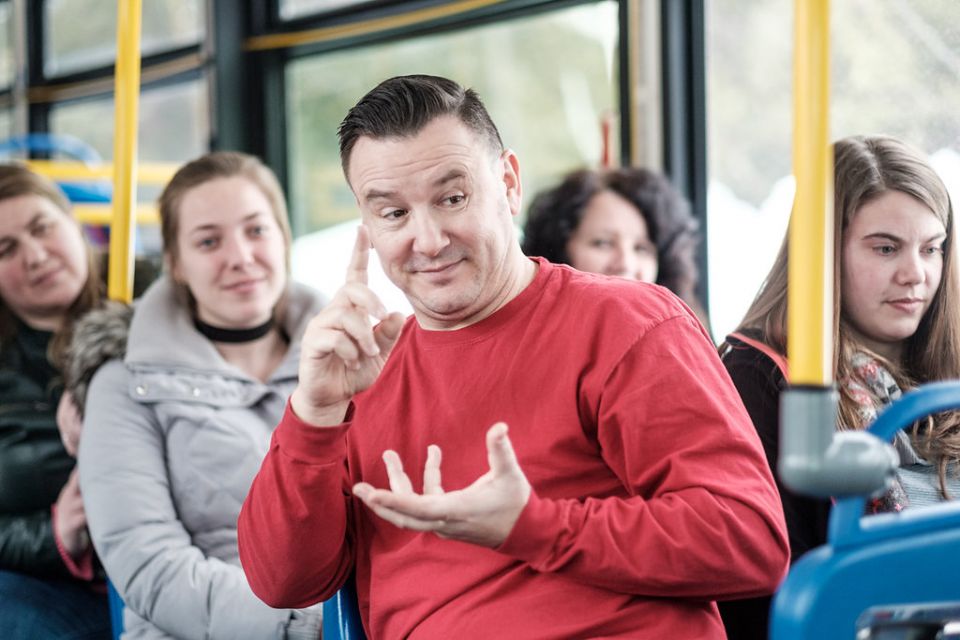 Hop on for a one-of-a-kind bus ride you won't want to miss!
Tales of an Urban Indian is a semi-autobiographical story of Simon Douglas, a contemporary First Nations man raised on the reserve in British Columbia and the streets of downtown Vancouver, and the array of characters that come in and out of Simon Douglas life. This dark comedy unfolds on a Kingston Transit bus as makes its way in downtown Kingston stopping at key points on the journey. Featuring a tour-de-force performance by Canadian actor, writer, and comedian of Ojibwa descent, Craig Lauzon of Royal Canadian Air Farce, Tales of an Urban Indian examines issues of race, identity and assimilation while offering themes of survival, forgiveness, and ultimately hope. Indigenous playwright Darrell Dennis says, I wanted to tell a story in which an Indigenous character is not defeated by his victimization, but rather, comes to the realization that all human beings possess the power of choice when reacting to their life experience. It was also important, in dealing with the difficult subject matter to approach it from a comedic point of view, since humour is perhaps the most important and prevalent survival mechanism in Indigenous society.
Cast List:
Craig Lauzon
Part of Kick & Push 2019