It's time to party! Join us for an epic evening celebrating the opening of Kingston's hottest summer theatre festivals, the Storefront Fringe Festival and the Kick & Push Festival! Featuring a free preview of all 18 shows in the Storefront Fringe, live entertainment, Swordplay: A Play of Swords by Sex T-Rex, and the launch of both the Storefront Fringe and The Kick & Push Festival, this PRE-PARTY is a chance to pick up your Fringe Pin, purchase your tickets for both festivals, mingle with artists and fellow theatre goers and get a taste for what's in store as these festivals pick up steam. The party starts at 7pm.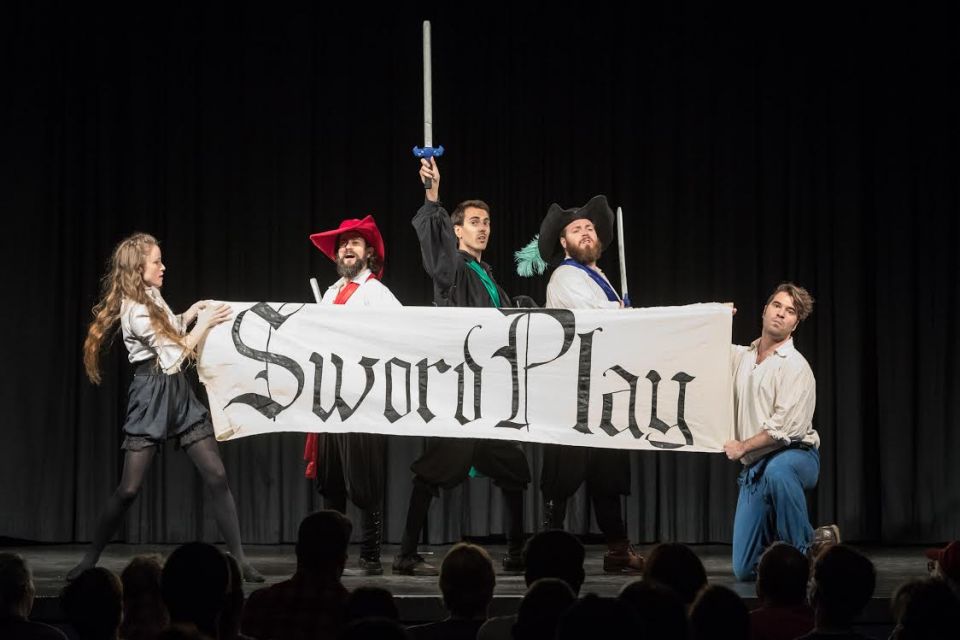 7:00pm - We'll start the evening in the Davies Lounge, with a FREE preview of the Storefront Fringe festival, hosted by hometown heartthrob and local funny girl Anna Sudac. All 18 Storefront Fringe companies get a two minutes to pitch their shows. The bar will be open and surprises are guaranteed.

8:30pm - Next grab a $10 ticket and head to the Regina Rosen for the opening show of The Kick & Push Festival. Find out more about Sword Play: A Play of Swords below. 

9:30pm - Join us after the show for more fun: Kick & Push ticketholders get 10% off at Stone City Ales, and fringe pin holders get 10% off at The Alibi.

SwordPlay: A Play of Swords is a love letter to classic Swashbucklers and retro fantasy video games that highlights Sex T-Rex's trademark cinematic style while offering a sophisticated parody on more modern offerings like Game of Thrones. From chandelier-swinging to dragon riding, the relentless ingenuity and playfulness of SwordPlay invites audience members to take a break from their screens and be swept away by their imagination.
Sex T-Rex founding members Conor Bradbury, Julian Frid, Kaitlin Morrow and Seann Murray are joined by Jon Blair (This Hour Has 22 Minutes, CBC Comedy, The Beaverton) to present the definitive version of this fan-favourite show.
For SwordPlay: A Play of Swords
2017 BC Touring Council Award | Pick of the Fringe - 2017 Vancouver Fringe Festival
2016 Atlantic Fringe Festival Best Comedy and Fringe Hit Awards | 2015 Just for Laughs Best Comedy
***** (5 stars) - Top 10 Pick of the 2017 Winnipeg Fringe Festival - CBC Manitoba
***** (5 stars) - "This could be the funniest show you'll see this Fringe." - Vue Weekly
***** (5 stars) - "Exhilarating. Madcap video-game inspired comedic romp." - Torontoist
***** (5 stars) - "Proves that theatre is still the perfect medium for creating the impossible." - TWISI Blog NNNN - Critics' Pick - "Comic gold." - NOW Magazine
Venue
218 Princess St.
Kingston ON K7L1B2
Canada