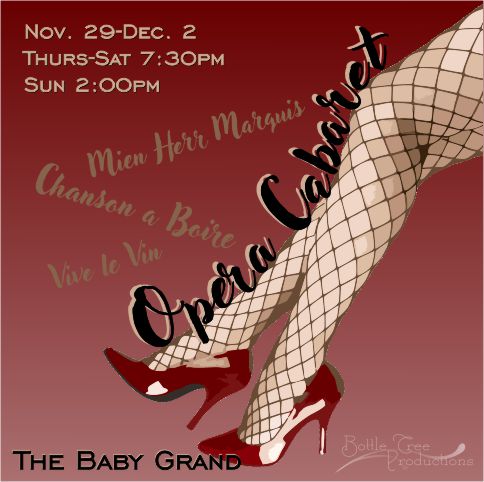 Bottle Tree Productions proudly presents:
OPERA CABARET!
Join our dynamic artists for a wonderful evening of opera like you've never experienced it before! Grab a drink, grab a table, and let us entertain you with a whole new cabaret event.
Music Director Ariel Zaichick has gathered artists and planned an evening of music to entertain you in a style that is a fresh take on an old idea. It's cabaret - a little raunchy, a little ... boozy (if you partake-or not, if you don't) and it's opera, with a smattering of operetta! Vive le Vin, Mein Herr Marquis, and Chanson à Boire are a few of the pieces chosen for the evening's entertainment.
Accompanist Clare Miller rounds out the musical talent of Ariel Zaichick, Mallory Brumm, Kristen English, Jenn Wilson, Zoe Clarke, Alastair Kierulf, Julien Bouchard, Emily Helferty and Michael Hatton. Hear these talented singers while they are still in Kingston!
Venue
218 Princess Street
Kingston ON K7L 1B2
Canada