Please note you must select the correct ticket type using the drop down menu at checkout , then select to UPDATE TICKET TYPE button before proceeding to the payment.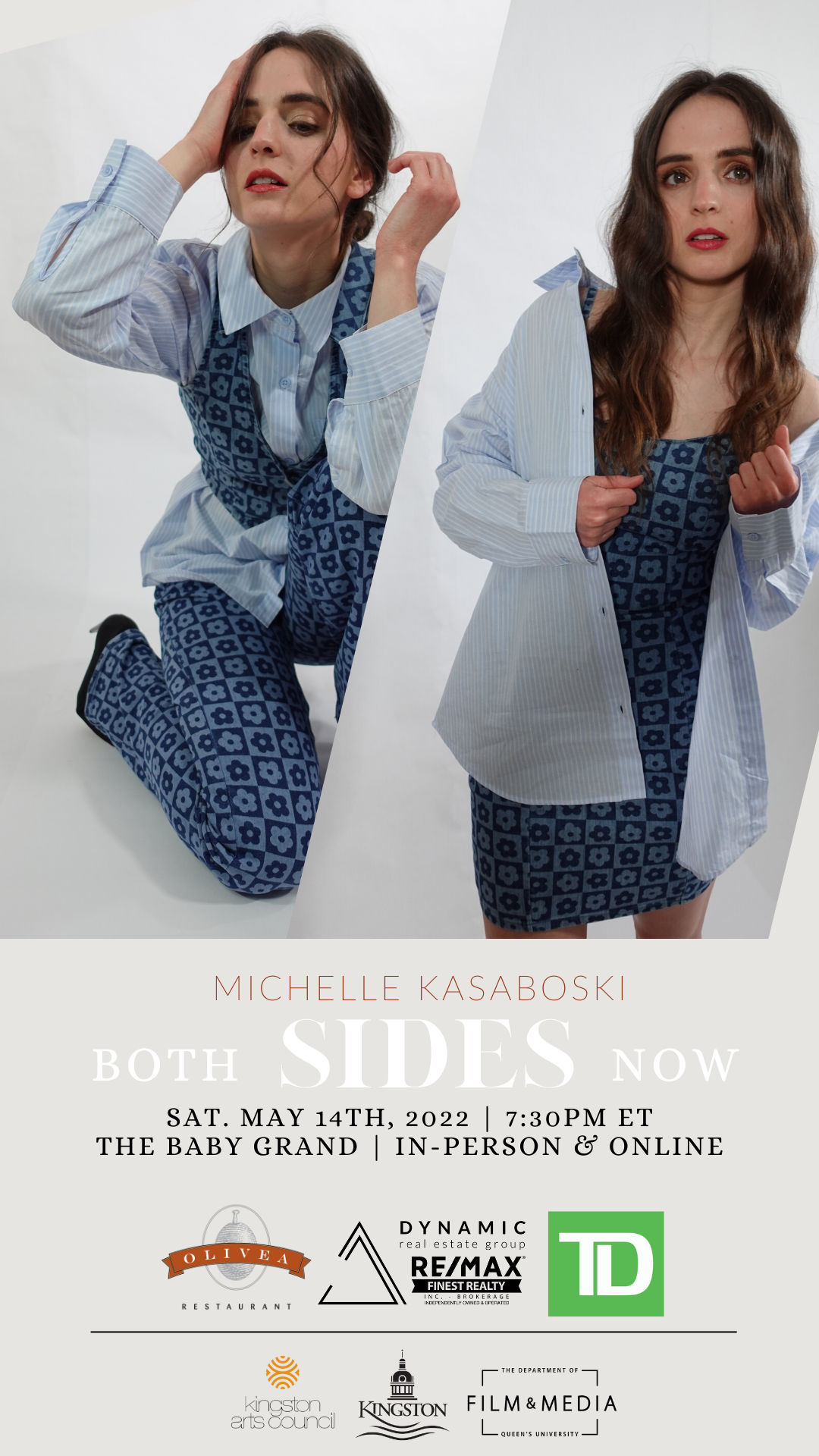 Michelle Kasaboski
Both Sides Now: Live Performance in the Post-Pandemic World
Saturday, May 14, 2022 at 7:30 PM
In-Person: Baby Grand Theatre
Tickets - ADMIT ONE- $30 plus handling fee; STUDENT/YOUTH - $20 plus handling fee
Online: via ZOOM (The link will be emailed to the address used for purchase in advance of the show. Please keep an eye out in your inbox and junk mail for an email from The Grand Box Office with your link!)
Cost - Online Group (2+ viewers) - $30 plus handling fee; Online Individual - $20 plus handling fee; Online Student/Youth - $15 plus handling fee
Sponsored by TD Wealth Management, Olivea Restaurant and Dynamic Real Estate Group.
With support from the City of Kingston Arts Fund and the Department of Film and Media at Queens University.
Step into Michelle's world as she takes you on a journey through song and her experience as an artist transitioning through the live-performance challenges of the pandemic. With brand new original music and covers ranging from legends like Ella Fitzgerald and Tony Bennett to the modern voices of Caity Gyorgy and TWICEs Ji Hyo, join Michelle as she explores the cross-over of in-person and virtual performance spaces through her specialization as across-genre artist. Jazz and Pop. Old and New. Covers and Originals. In-Person and Online. This is: Both Sides Now.
ABOUT THE PROJECT:
Both Sides Now: Live Performance in the Post-Pandemic World".
City of Kingston Arts Council ADAPT Grant project recipient.
"Both Sides Now offers a professional theatre-style live music performance in a hybrid (in-person and virtual) model. This project aims to address the need for quality professional live music and performances in small to mid-size venues to be accessible, regardless of in-person restrictions. The goal of this project is to take virtual live performance from being a backup option to an additional option; as the need and want for live digital content has continued to increase throughout the pandemic, our goal isto make the online experience a uniquely, and equally, engaging and valuable experience on its own.
This concert is the culmination of the research for the Both Sides Now project.
Team:
Michelle Kasaboski - Performing Artist, Co-Creative Director
Paige Kasaboski - Concert Producer and Co-Creative Director
Jesse MacMillan - Technical Director
Lester Malihan Performing Artist, Co-Musical Director
MORE ABOUT MICHELLE:
Enjoyed by audiences for her on-stage charm and smooth vocals -and hailing praise from the likes of Ranee Lee, Matt Dusk, and John McDermott -Michelle Kasaboski is on a journey to establish herself as a standout presence in the Jazz & Adult Contemporary music scene.
After winning the YGK Emerging Musician Competition in 2019,Michelle took top honours again as the winner of national artist competition "The Shot: Remastered" in November 2020, beating out nearly 10,000applicants from across the country. Following her triumphant return to the stage in December 2021 for her sold-out in-person5th Annual Christmas Concert, Michelle was awarded one of FACTOR Canadas coveted Artist Development grants entering 2022.
In addition to her performance successes, Michelle released an EP of Jazz Standards, The Very Thought of You in December 2018 and is currently working on her first album of all original music in over 10 years.
Venue
218 Princess Street
Kingston ON K7L 1B2
Canada