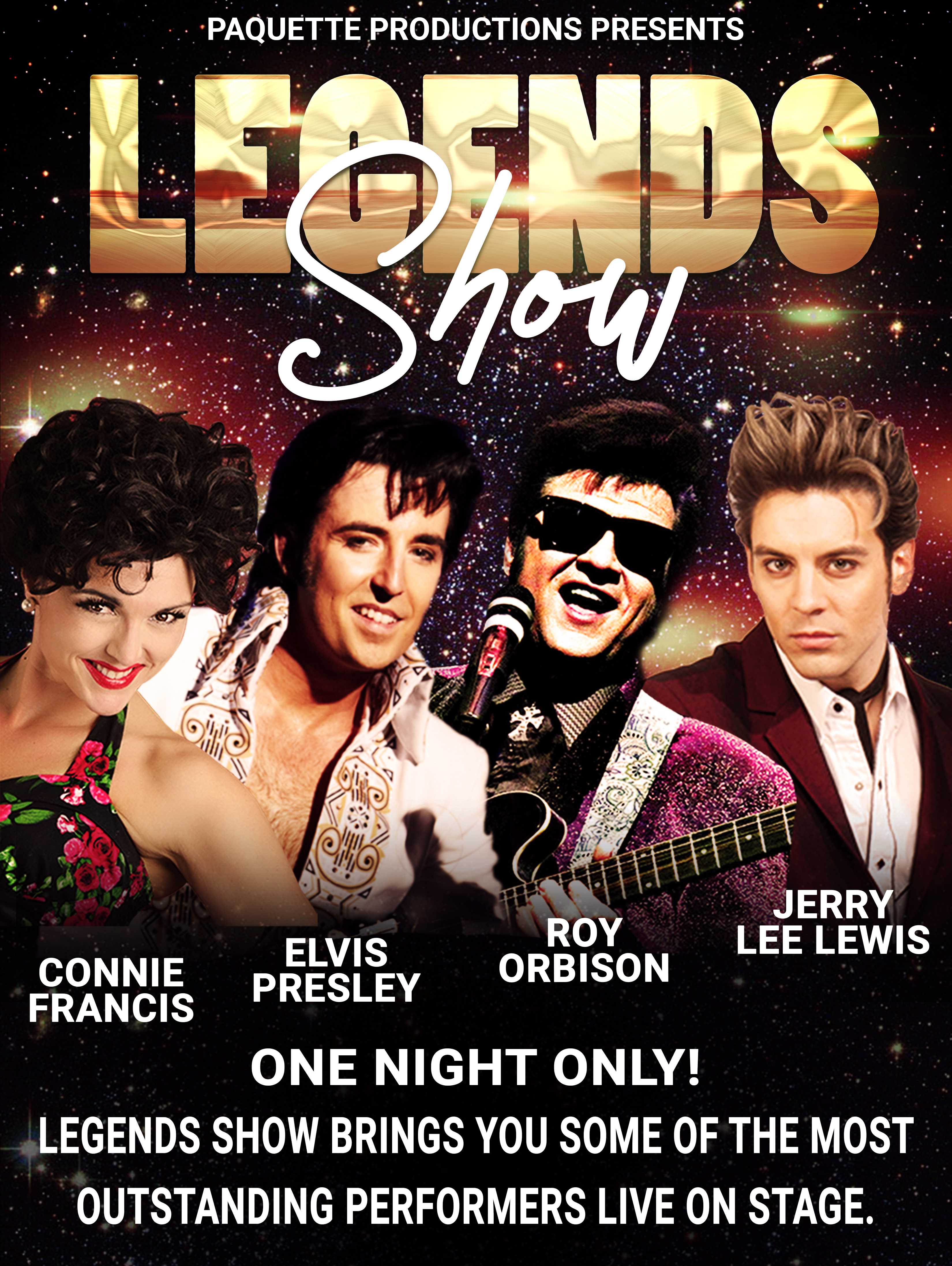 Important Patron COVID Information: The presentation of live shows and events at Kingston Grand Theatre is subject to all provincial and public health guidelines in place at the time of the scheduled performance. 
The performance of Legends Show with Tributes to the Music Hits from the 50s and 60s, Connie Francis, Roy Orbison, and Jerry Lee Lewis originally scheduled for Wednesday, April 1, 2020, was postponed to Thursday, October 29, 2020, then to Thursday, April 29, 2021, is now rescheduled to Thursday, April 28, 2022.
Paquette Productions Presents
LEGENDS SHOW
Tributes to Roy Orbison, Connie Francis, Jerry Lee Lewis and Elvis Presley
ONE NIGHT ONLY! Legends Show brings you some of North America's most outstanding performers live on stage. Accompanied by the Rockin' Royals Band & The Tonettes, this show will feature the most incredible Tributes to Roy Orbison (Jesse Aron), Connie Francis (Amberley Beatty), Jerry Lee Lewis (Lance Lipinsky), and Elvis Presley (Pete Paquette).
Roy Orbison: Jesse Aron, who hails from the state of Wisconsin, is recognized as one of the USA's top Roy Orbison tribute performers. With his effortless voice and uncanny resemblance to Roy, Jesse will take you back in time with such hits as Crying, Pretty Woman, Only The Lonely, Running Scared, and many more of your favourites.
Connie Francis: Canada's tribute queen Amberley Beatty returns to the stage with an incredible performance paying tribute to American pop singing icon, Connie Francis. Idolized by millions of fans around the world, Francis is best known for her hits such as Where the Boys Are, Whose Sorry Now, You're Cheatin' Heart, Stupid Cupid, and Lipstick on Your Collar.
Jerry Lee Lewis: Influenced by the mid-century birth of the Rock & Roll era of the 1950s and '60s, Wimberley, Texas-born Lance Lipinsky preserves the timeless tradition of American Roots music as a songwriter and as an entertainer with show-stopping boogie-woogie piano antics. Lance has appeared on both the David Letterman Show and at the Ryman Auditorium in Nashville, TN. He has also performed in over 2500 action-packed shows for five years at the Apollo Theatre in the TONY award-winning Broadway musical Million Dollar Quartet.
Elvis Presley: Pete Paquette is a multi-award-winning Elvis Tribute Artist. Known for captivating his audiences through his incredible voice, high energy, charisma, and playful spontaneity. With hits such as Jailhouse Rock, Suspicious Minds, Don't Be Cruel, Can't Help Falling In Love, and many more, Pete's Tribute to the King of Rock and Roll will leave you wanting more.
This performance will run for 2 hours and 20 minutes, including the intermission.
Venue
218 Princess St.
Kingston ON K7L1B2
Canada