Buying VIP? - please complete a profile in full with your mailing address as portions of the VIP experience will be sent via postal mail to the location of your choice.  DO NOT CHECK OUT AS A GUEST or you will miss out on some of the VIP experience.
Kingston Grand Theatre has returned to our standard ticketing policies.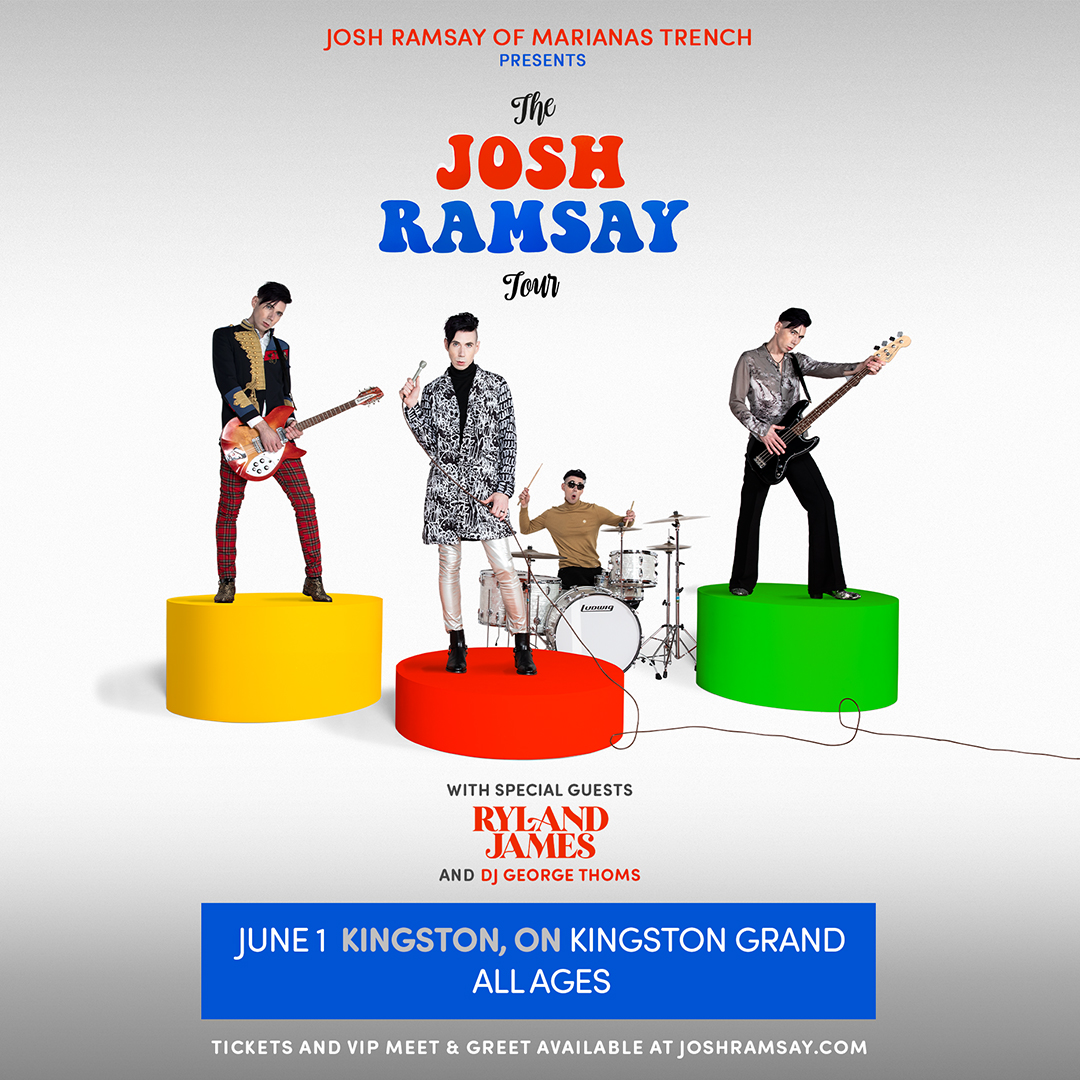 During the start of the pandemic, Josh Ramsay needed something to do while in isolation. He indulged himself by writing songs in as many different genres as possible. Josh explains, "my goal was to try and do as many genres as possible, so it feels kind of like a variety show. I see it as my 'calling card' – not just as a songwriter, but as a producer and arranger."
Presenting The Josh Ramsay Show, the first solo album from a blazing talent rebooting himself as a brand-new artist. Not that Marianas Trench are kaput. It's just that when singers with big guitar bands undertake personal projects, they're often, as Ramsay puts it, what we might expect: "a quiet, introspective, singer-songwriter album. That's just not me, man!"
The album is a sweeping exploration of musical styles featuring collaborations with a wide range of Canadian singers from across the musical spectrum that rings in at 18 tracks in all. Josh Ramsay is touring across Canada   in support of The Josh Ramsay Show this spring, including a stop in Kingston June 1st.
DJ George Thoms is supporting Josh along with special guest Ryland James.
Josh Ramsay Ultimate VIP Experience
$150 CAD + Ticket Price
Includes:
- One GA or Premium Ticket in Rows 1-15*
- One Individual Meet & Greet + Photo Opportunity with Josh Ramsay**
- VIP Access to a Q&A Session with Josh Ramsay
- One VIP Merchandise Package***
~ Includes an Exclusive VIP Merchandise Item, Autographed 8x10 and a VIP Laminate~
- First Entry Into the Venue and Crowd Free Merch Shopping****
*Compliance with all local COVID-19 guidelines is required for entry into the show
**Meet & Greet + photo opportunity may be socially distanced, masked or converted to a fully virtual
model depending on COVID-19 guidelines at the time of your show
***All package inclusions except the laminate will be mailed to the purchaser after the event
***When and where available

Package details subject to change without notice. All VIP packages are NON-TRANSFERABLE; NO NAME CHANGES will be permitted under any circumstances; NO REFUNDS or EXCHANGES; all sales are final. You will receive an email 2-3 days prior to the performance date with instructions for your VIP Experience. Please note this offer is not valid for tickets purchased via Fan to Fan Resale. By participating in any event with Josh Ramsay, you hereby agree that your name, photographic and/or video image, and voice may be used in any media, whether now known or hereafter invented, throughout the world for any purpose whatsoever.
RELEASE: You release, and agree to indemnify and hold harmless, Josh Ramsay and their respective members, officers, directors, employees and agents (the "Released Parties") from and against all claims (known and unknown), liabilities, injuries, death, loss and/or damages of any kind arising from your participation in the VIP Package and/or meet & greet, or the acceptance, possession or use or misuse of the package or any related prizes. You assume all risks associated with the VIP Package or use or misuse of any related prizes, and you agree that the Released Parties will not be responsible or liable for any injury, harm, death, damages, costs or expenses.
Venue
218 Princess St.
Kingston ON K7L1B2
Canada