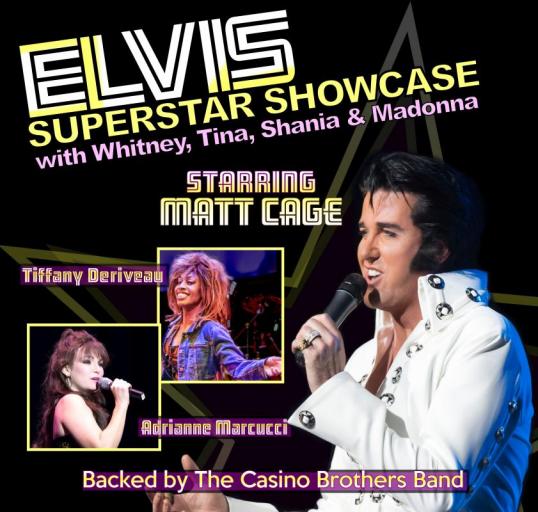 With Whitney, Tina, Shania & Madonna
Starring: Matt Cage
With the Casino Brothers Band
Following up last year's smash hit show, Elvis Anthology, King Attractions is back! Elvis Superstar Showcase playing October 6th at 7:30pm will be a show not to miss! This fast-paced, fun concert features amazing tributes to Elvis Presley, Whitney Houston, Shania Twain, Tina Turner and Madonna! Backing up our superstar performers is the famed, Casino Brothers Band - the Collingwood Elvis Festival house band.
Concert goers will delight in watching Matt Cage, who is one of the top Elvis Tribute Artists in the world, winner of many outstanding awards in Canada and the United States and currently appearing nationwide in the Broadway Award-Winning Play, Million Dollar Quartet. Elvis Superstar Showcase will feature Matt performing some of Elvis' most iconic looks and songs from the early 1950s right up to and including the 1970s.
We are thrilled to bring back the very talented and award-winning Adrianne Marcucci, who will electrify as Shania Twain and Madonna. Joining her will be Tiffany Deriveau who is well known for her scintillating tributes to Whitney Houston and Tina Turner. Both of these fine performers embody their tributes with their signature styles and looks they are famous for.
Once again proudly supporting the Providence Care Hospital Volunteer Services Patient Comfort Fund, come out for a great show and help a great cause!
Performing at the Grand Theatre, in the Regina Rosen Auditorium
Tickets are $49.00 plus HST and handling fee
More Matt Cage at www.mattcage.com
Venue
218 Princess St.
Kingston ON K7L1B2
Canada