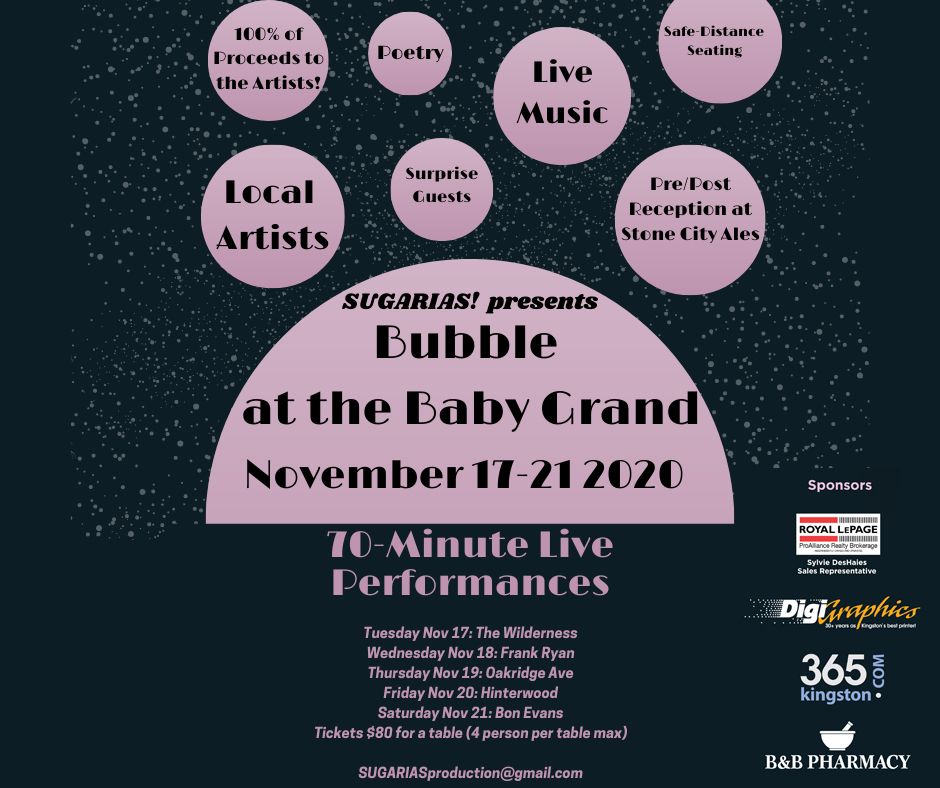 Bubble at the Baby Grand presents live performances by local bands:
Tuesday Nov. 17 - The Wilderness
Wednesday Nov. 18 - Frank Ryan and Friends
Thursday Nov. 19 - Oakridge Ave.
Friday Nov. 20 - Hinterwood
Saturday Nov. 21 - Bon Evans
Sunday Nov. 22 - Baby Bubble Friends - Cancelled.
Tuesday Nov. 24 - Open Mic night
Tickets are being sold by tables of four (4) so that you can attend with your Covid bubble. Other precautions are also in place, including a screen between the performers and the audience.
Seating is limited to 6 tables of 4 people, so events will sell out quickly!
Doors open at 7:00 pm with the show running from 7:30-8:40 with no breaks. Everyone is invited to join the performers afterwards at Stone City Ales, where you can receive 10% off your beer by showing your ticket stub.
This is a not-for-profit event organized by SUGARIS Productions, with all proceeds going to the performers. It promises to be a ton of fun and a chance for bands to play a live gig and for people to get out with their Covid-bubble and enjoy some live music.
Come and join us for the Bubble at the Baby Grand!
Venue
218 Princess Street
Kingston ON K7L 1B2
Canada