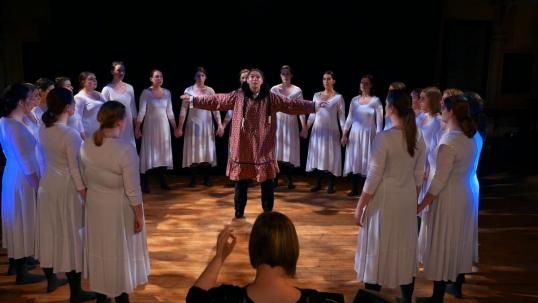 THIS SCHOOL PERFORMANCE IS SOLD OUT. KINDLY FILL OUT OUR ONLINE ORDER FORM SHOULD YOU WISH TO BE ADDED TO THE WAITLIST. WE WILL CONTACT YOU IF WE ARE ABLE TO ACCOMMODATE YOUR GROUP.
From Canada's far north, emerges the story of Olemaun Pokiak whose only dream is to learn to read. But her dreams are dashed after arriving at a Residential School. Her name is changed to Margaret, her hair is cut and she is shown nothing but cruelty by classmates and teachers. Fatty Legs allows audiences to experiences the deep strength of a young girl who refused to be broken by her experiences.
This production uses choral soundscapes, dance and narrative to share the story of Olemaun. Xara provides haunting choral magic and intricate choreography to create Margaret's world.
Curriculum Connections
Indigenous studies/residentail schools in Canada, social studies, english language, arts, music, drama, dance, health, physical education.  Based on the book by Christy Jordan-Fenton & Margaret Pokiak-Fenton.
Download the Fatty Legs study guide here http://www.xara.ca/fatty-legs-ed-guide.
For additional classroom resources educators may wish to visit http://empoweringthespirit.ca/fatty-legs-webinar-series/.