Grades: 4-8 
Curriculum Connections:  Celebrating diversity through music, Exploring and fusing musical styles, Cross-Curricular Connections, Equity & Inclusion, Indigenous Studies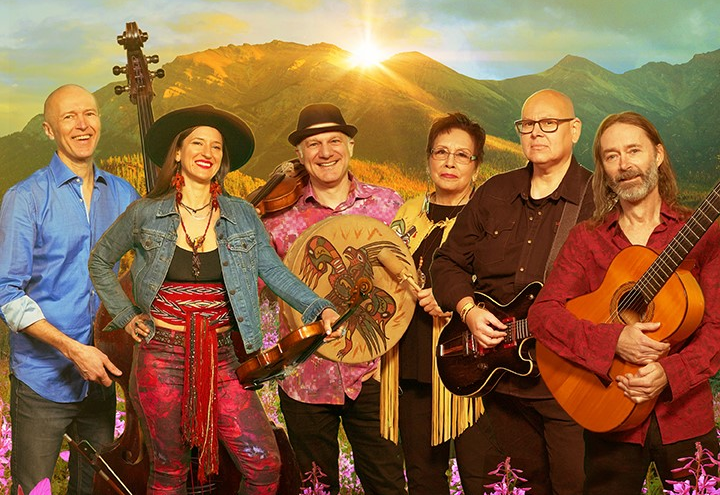 Walking Through The Fire  
Indigenous Collaborations featuring Sultans of String & Friends
3x JUNO Award nominees and Billboard charting artists Sultans of String take you on a musical journey! 
Walking through the Fire is a collaborative and magical performance featuring award-winning First Nations, Métis, and Inuit artists from across Canada, along with the BILLBOARD charting Sultans of String. The show is a blend of various musical styles, including Métis fiddling, East Coast Kitchen Party, Rumba, Rock, and the drumming of the Pacific Northwest. The performance features live artists on stage, including Alyssa Delbaere-Sawchuk of the Métis Fiddler Quartet, Ojibwe/Finnish Singer-Songwriter Marc Meriläinen (Nadjiwan), and Coast Tsm'syen Elder and Singer-Songwriter Shannon Thunderbird. The show aims to reveal the depths of contemporary Indigenous experience and music and to bring Indigenous and non-Indigenous people together in the spirit of the Truth and Reconciliation Commission's 94 Calls to Action. Walking through the Fire promises to be a unique and inspiring experience for audiences
Date: Tuesday, January 23, 2024 (1 p.m.) 
Grades: 4-8 
Curriculum Connections:  Celebrating diversity through music, Exploring and fusing musical styles, Cross Curricular Connections, Equity & Inclusion, Indigenous Studies
Educator Resources: Download below.
"The playing is top notch, and every track is a musical discovery!" -Errol Nazareth, Toronto Sun