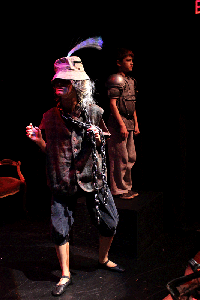 Bottle Tree presents
STAGE RIGHT, ACTING CLASSES
Venue: St. Andrew's Presbyterian Church, 130 Clergy St E (Clergy & Princess)
Date(s): Classes start Sat, Sept 19th and run for 10 weeks
- 10am-11am *Little Stars for 6-8 year olds (school grade SK/1-2)*NEW* (12 spaces) - $157.50 plus handling fee
- 11am-noon *Stage Right JR for 8-10 year olds (school grade 3-5) (15 spaces) – $157.50 plus handling fee
- 12:30pm-2pm *Stage Right Intermediate for 11-12 year olds (school grade 6-8) (15 spaces) - $236.25 plus handling fee
- 2pm-3:30pm *Stage Right for Teens (High School) (8 spaces) - $236.25 plus handling fee
- Musical Theatre Class *time TBA
- Summer Acting and Musical Theatre Camp (July 2016)
Information:
Stage Right Acting classes take place Saturdays for ten weekends. Long weekends are always off!
Class fees are due upon registration and are required to hold your place in class. Fees are for each term (10 weeks per term).
Bad weather policy: If school buses are cancelled, classes and rehearsals are also cancelled.
Our courses teach beginning to advanced theatre arts while promoting teamwork and cooperation. Every actor is allowed to develop at their personal pace in a supportive and encouraging environment. The final class is an informal performance at The Baby Grand Theatre, with an invited audience of family and friends.
LIttle Stars, and Stage Right classes are grouped by age, and the class duration is set accordingly. All levels of ability are represented in the class, much like you would find in a theatre production. We believe that the way to learn is through experience by participating at your level of comfort. 2015-08-20
Our Musical Theatre class for 8-16 year-olds is a popular class that encompasses rehearsals and a performance run for a fully supported musical theatre show.Visit the Musical Theatre class page for details, including show title and dates. Performances are at The Baby Grand Theatre. Find out more!
Adult Acting Classes and workshops are offered from time-to-time. We always have interest from adults, but their busy schedules mean that it is challenging to find a time that works for all. If you are interested in acting training for adults (raw beginner to experienced actor), please ask to be added to our newsletter mailing list. We will keep you informed about what is happening!
We value achievement and personal enrichment in our acting classes. Our program sets the student up to succeed while allowing that failure is a normal part of learning. "Try, try again" brings success. This is not art therapy; we aim to develop performance-oriented acting skills so that audiences are entertained. We can't help it that these skills serve people well in many more aspects of their lives - but we're fine with that!
Anne Marie Mortensen and Charles Robertson have been teaching acting to children, as Bottle Tree Productions since 2006, and as freelancers well before that. They oversee all programming for the acting school, and they invest in quality instructors and scripts, professional venues, and main stage shows that support the talent in the classes.
Contact

Phone: 613-384-8433