April 21, 2022 - Workshop registration has closed. Successful registrants have been sent a confirmation e-mail. 
What? A songwriting workshop with Michael C. Duguay
Who? 10 Bruce Cockburn ticketholders, ages 16+
When? Monday, April 25, 2022 at 7 PM 
Where? Davies Lounge, Kingston Grand Theatre
Questions? Please contact ArtsProgramming@cityofkingston.ca
During this immersive two-hour workshop, Michael will explore the distinct qualities, characteristics, and substance of Bruce Cockburn's illustrious body of work, drawing on examples throughout his career and discography to place him in the lineage of the western songwriting tradition; examining his influences and, in turn, his influence. Upon establishing these themes, Michael will lead a discussion on advanced songwriting techniques, using Cockburn's body of work as a touchstone to guide the discussion, as well as some examples from his own body of work. Due to time constraints, participants are not required to bring their own work or instruments but are encouraged to bring their thoughts and ideas on songwriting;  there will be an opportunity to ask for some further guidance in their own songwriting practice during a Q&A at the end of this workshop.  
Limited spots available by registration only on a first-come first-served basis. Please use the RSVP form below. Workshop is free. Proof of Bruce Cockburn Grand OnStage performance ticket purchase required. Registration will remain open until April 20, 2022, or when all workshop spots are filled- whichever comes first. Registrants who have been successfully placed in a spot will be notified by e-mail.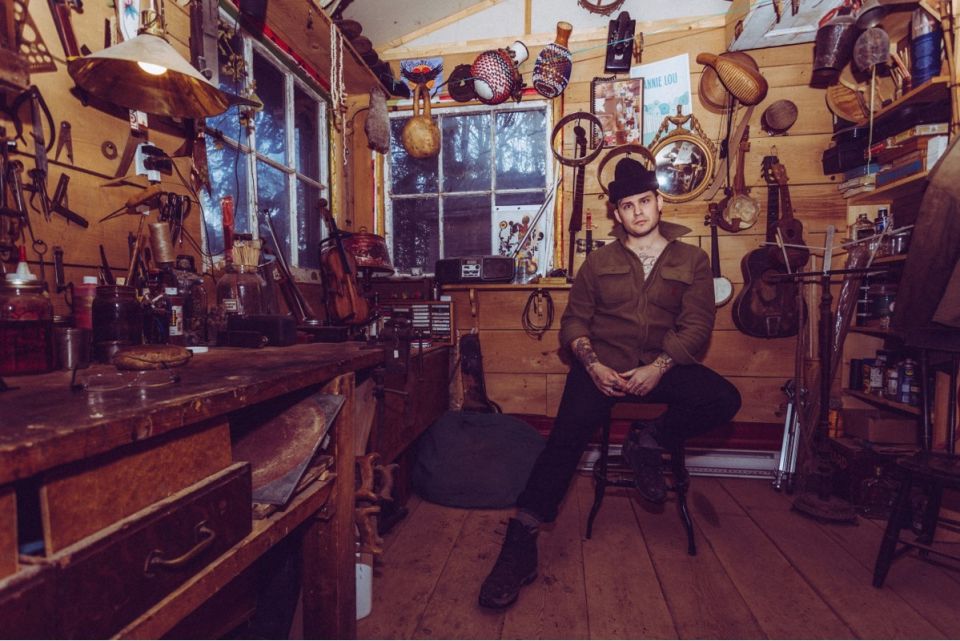 "Every song tells a story, but not every songwriter can tell a story the way Duguay can." 
-Dominionated 
Michael C. Duguay is a writer, musician, and performer based out of Kingston, Ontario. First gaining recognition as a versatile and uniquely charismatic supporting player in the early 2000's, Michael contributed to critically acclaimed breakthrough albums by The Burning Hell and Evening Hymns. After surviving nearly  a decade of homelessness and drug addiction, Michael resurfaced in 2018, self-producing and releasing his widely praised sophomore album, The Winter of our Discotheque, which chronicled his years of tumult and established him as one of Canadian music's most distinct, enigmatic, and honest emerging voices. A fervent collaborator and community builder, Michael's genre-fluid and multidisciplinary projects feature a diverse and revolving cast of contributing members from across North America.  
Michael's forthcoming album, Saint Maybe, is slated for release in 2022. Initially conceived as a series of agnostic hymns and prayers, Saint Maybe's lyrical themes explore survival, surrender, spirituality, and the limitations of human language and in expressing and comprehending mystical concepts. Musically, Saint Maybe seamlessly incorporates folk, punk, electronic, jazz, drone, and experimental music traditions while remaining squarely rooted in skillful pop craftsmanship.  Saint Maybe was produced in Whitehorse over multiple sessions between 2019 and 2021, and saw Duguay immersing himself in the Yukon's creative community, collaborating intensively with producer/engineer Jordy Walker and 24 year old Indigenous producer Jeremy Parkin, among an impressive roster of that territory's most innovative and forward-thinking musicians, performers, and visual artists.  Both conceptually and in execution, Saint Maybe impressively displays Michael C. Duguay's evolution as a pioneer in a new school of Canadian music- one that ditches the familiar trappings of the traditional singer-songwriter epithet and which operates outside of the limitations of convention, genre, even geographic distance, resulting in a style and vision that is both distinctly timeless and radically new.  
Michael was the inaugural recipient of The City of Kingston's Local Arts Residency and has been recognized by the Canada Council for the Arts, Ontario Arts Council, and Yukon Sound Commission for his contributions to Canadian arts and culture. His work is featured regularly on CBC radio, and you can hear him performing live across Canada this summer, as well as his biweekly radio show of experimental music every other Sunday from 7-8 pm est on fsr.live