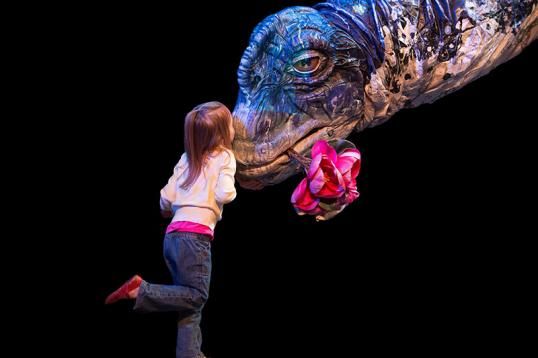 THIS SCHOOL PERFORMANCE IS SOLD OUT. KINDLY FILL OUT OUR ONLINE ORDER FORM SHOULD YOU WISH TO BE ADDED TO THE WAITLIST. WE WILL CONTACT YOU IF WE ARE ABLE TO ACCOMMODATE YOUR GROUP.
Erth's Dinosaur Zoo - Live guides your family on a breathtaking tour through pre-historic Australia. You'll observe, meet and interact with an eye-popping collection of amazingly life-like dinosaurs and other creatures presented in a theatrical performance that will thrill and entertain kids while stimulating their imaginations in ways that will forever connect them to their world.
Brought to life by a team of skilled performers and puppeteers, and designed with the help of professional paleontologists, these puppets are so extraordinarily realistic you may feel the urge to run and hide -- but don't! While it may indeed have been 65 million years in the making, we think you'll agree, its well worth the wait.
Ideal for ages 5 and up.
Curriculum Connections
Life sciences, natural history & palentology, making observations, predictions & connections, investigating & exploring the natural world, puppetry.