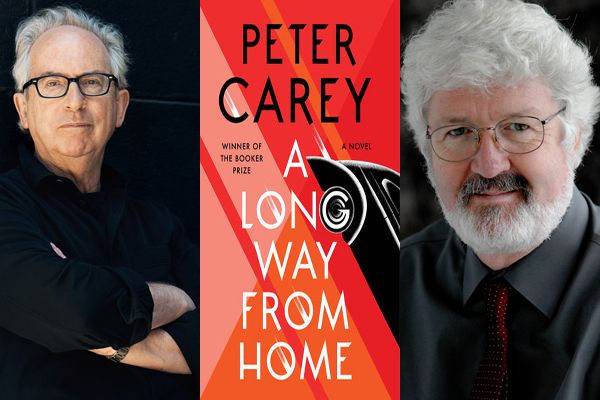 16. International Marquee
Reading and Conversation
Peter Carey
Hal Wake
We celebrate our tenth annual festival and the 50th anniversary of the Booker Prize with a very special guest, acclaimed Australian writer Peter Carey, twice-winner of the prestigious international prize. He presents his powerful new novel, A Long Way From Home, which employs the conceit of a light-hearted road trip to examine Australia's colonial past.
Join Peter and Hal Wake for an in-depth conversation, interspersed with readings, in which Peter reflects on his writing career and what has brought him now to write about racism, genocide, and Australia's historical treatment of Indigenous Australian peoples.
VIP Seating* - $75 plus handling fee 
Regular Admission - $45 plus handling fee 
TENTH ANNUAL SPECIAL - $35 plus handling fee
at 2015 price
International Marquee Tickets sold at Grand Theatre Box Office ONLY.
*Limited number available. Includes preferred seating and exclusive private reception with Peter Carey, catering provided by Tenth Annual Catering sponsor Windmills.
IM Price Tiers are based on the seating location within the theatre. Please see seating map on Grand Theatre event page for details. ASSIGNED SEATING
International Marquee Event Sponsor: Kings Crossing Outlet Centre
Celebrate the Literary
Thursday, September 27, 2018
8:00 - 9:30 pm
Grand Theatre, Regina Rosen Auditorium
Venue
218 Princess St.
Kingston ON K7L1B2
Canada