Thorgy and the Thortet Cancelation
We're so sorry to announce that we had to cancel the Thorgy and the Thortet Canadian Tour, presented by clubCOUTURE. 
Thorgy Thor is a phenomenal artist, and we were so excited to bring her and her troupe of talented musicians to cities across Canada with her unique, modern twist on classical music - but sadly, due to unfortunate circumstances beyond our control, we've had to cancel this tour.
Please contact the Grand Theatre Box Office at your earliest convenience to have your refund completed by phone or in person.  A valid credit card will be required.  613-530-2050  Mon – Sat 12noon until 6pm.
clubCOUTURE has never had to cancel a performance before, and we are just as disappointed as all of you are. We hope to see you at our future shows, and hope you understand how hard we work to make these shows happen.
In the meantime, please visit thorgy.com and show our favourite fashion clown some love; buy a t-shirt, leave a positive message, check out her performance schedule - because as hard as we work, these amazing artists never, ever stop working to educate and entertain their fans around the world.
Thanks again for your patience and understanding. These events have a LOT of moving pieces and just couldn't take place without you, and we appreciate your support.
xoxo
clubCOUTURE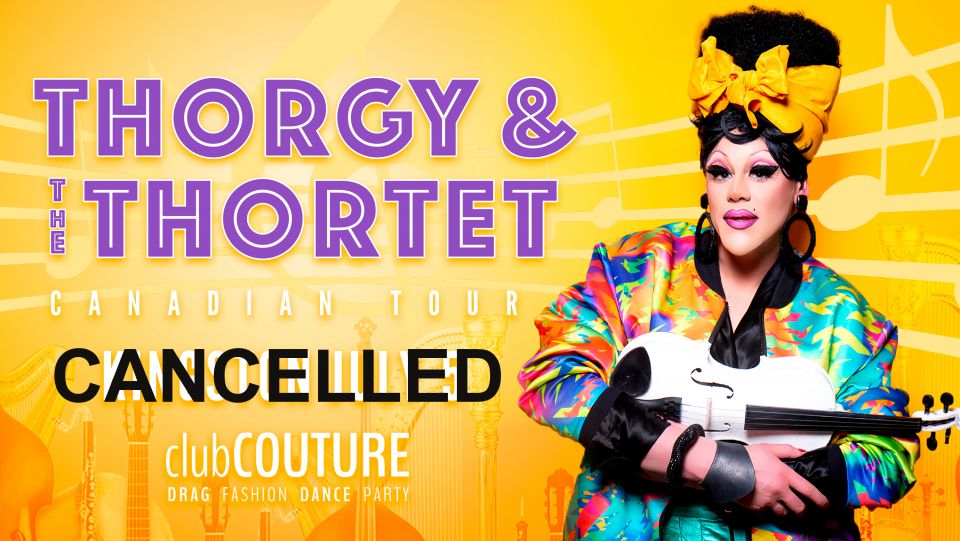 clubCOUTURE presents: Thorgy and the Thortet
Thello Thovelies!
clubCOUTURE has been a busy kitty lately and we are not done yet! We are thrilled to be bringing you something unique and special - a new type of drag extravaganza! ClubCouture presents... Thorgy and the Thortet!
The reigning Queen of Classical Music is coming back to Canada, and shes bringing an all new show with her! Thorgy Thor, fresh off her successful launch of her Thorchestra, is bringing Thorgy and the Thortet across Canada this summer with clubCOUTURE.
Armed with a dazzling quartet of players, Thorgy wields her razor-sharp wit, virtuoso classical chops, and her wacky sense of humour in this all-new variety show that will go beyond what audiences know as classical. Finally realizing her dream of marrying the art of drag and classical music, Thorgy and the Thortet will showcase the perfect blend of popular music, orchestral favourites, and drag shenanigans.
Since appearing on season 8 of RuPaul's Drag Race and All Stars season 3, Brooklyn fashion clown has been travelling the world, bringing to audiences her trademark wit, sense of humour, and musical charm.
This summer, come join us as we present a night of drag ridiculousness paired with beautiful music. clubCOUTURE, Thorgy Thor and her Thortet will hit the road to bring you a unique, magical evening for drag and music lovers alike.
VIP Meet & Greet 6:30pm
Doors Open: 7:15pm (for General ticket-holders)
Show: 8:00pm
Intermission: 8:50pm (20 minutes)
This is show is ALL AGES but VIEWER DISCRETION IS ADVISED.
Merchandise will be available onsite. Cash only.
*A limited number of VIP Meet & Greet tickets will be available and include admission to the show with priority seating, an exclusive meet and greet opportunity and professional photo taken with Thorgy.
**All VIP Meet & Greet photos will be posted to the clubCOUTURE Facebook page within a few days after the show.
Venue
218 Princess St.
Kingston ON K7L1B2
Canada