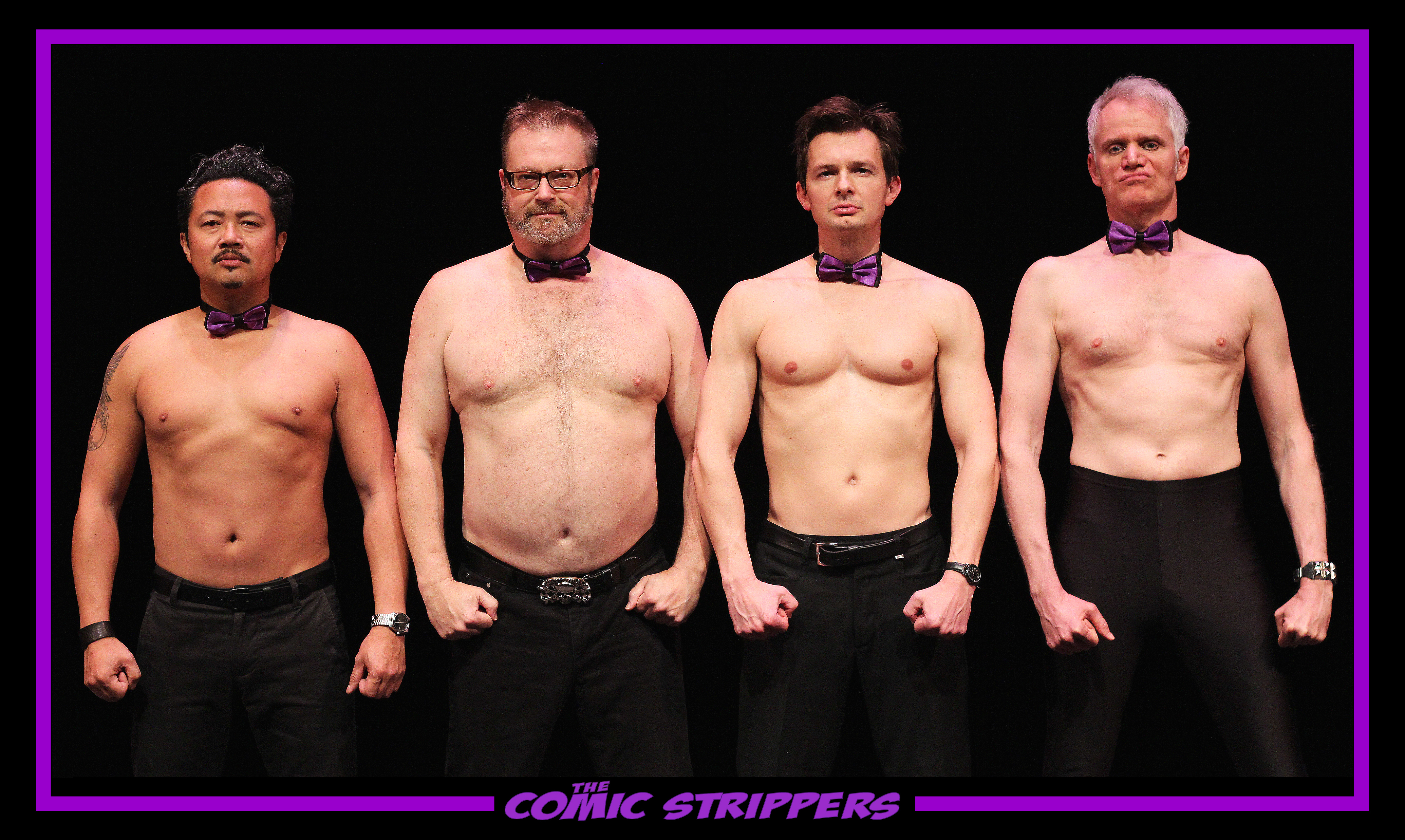 THE COMIC STRIPPERS
A Male Stripper Parody and Improv Comedy Show
Canadian Comedy Award Winners - Best Live Production
The Comic Strippers are a fictitious male stripper troupe, played by a cast of some of Canada's best improvisational comedians. These guys try to be sexy... it just comes out funny. Constantly grooving and gyrating, in between scenes they banter with the crowd and perform their sexylarious twist on improv sketches. They sing, they "dance"; these guys are oiled up and ready to make you laugh. Women often say the most attractive thing about a man is his sense of humour - so ladies, these stripped-down comedians are sure to make your head explode. And not to worry, gentlemen, this is definitely a parody of male strippers. "A show suitable for both men and women an entertaining ride where anything goes." - Rip It Up Magazine
Semi-undressed and completely unscripted, The Comic Strippers take off their shirts and take on your suggestions to create a whole new genre of comedy.
WARNING: No extreme nudity, just extreme hilarity. A show for all genders... 19+ only
Fresh from sold-out shows in Vegas, Australia and across Canada and Canadian Comedy Award Winners for Best Live Production, The Comic Strippers are:
Roman Danylo -For five seasons, Roman starred on CTV's Comedy Inc. As a stand-up comedian, he has appeared on Just For Laughs and The Debaters.
Ken Lawson - Ken starred in the Canadian sitcom Health Nutz and has performed all over North America with The Vancouver Theatre Sports League and The Second City.
Chris Casillan - An improv comedy vet with The Vancouver Theatre Sports League, Chris is also a Canadian Comedy Award winner with his sketch comedy group Canadian Content.
Pearce Visser - Pearce is a 25 year veteran of improv, performing and teaching across Canada and the globe, is in the Cirque du Soleil talent roster, and can be seen occasionally on film and tv.
"5 STARS - Extremely funny comedy show that showcases their mercurial improvisational talents." - UK Fringe Review
"4 STARS - A high- energy evening that never loses pace." - Adelaide Now
One of the most hilarious shows I've ever seen.
- Vancouver Sun
Venue
218 Princess St.
Kingston ON K7L1B2
Canada