To comply with Province of Ontario regulations, residents 12 and older will need to show proof they are fully COVID-19 vaccinated to enter theatres starting September 22, unless an exemption applies.
All volunteers and patrons of Domino Theatre should be prepared with an electronic or paper copy of their COVID-19 vaccination receipt indicating that they are fully vaccinated AND matching Government-issued identification with name and date of birth. These items will be verified, but not collected.
We are thrilled to reopen Domino Theatre and appreciate everyone's patience as our cast of volunteers implement this new provincial requirement as efficiently as possible.
For additional details on the Domino Theatre COVID 19 safety plan, please visit our website. For additional details on the Ontario COVID 19 Vaccination requirement, please visit ontario.ca/covid-19.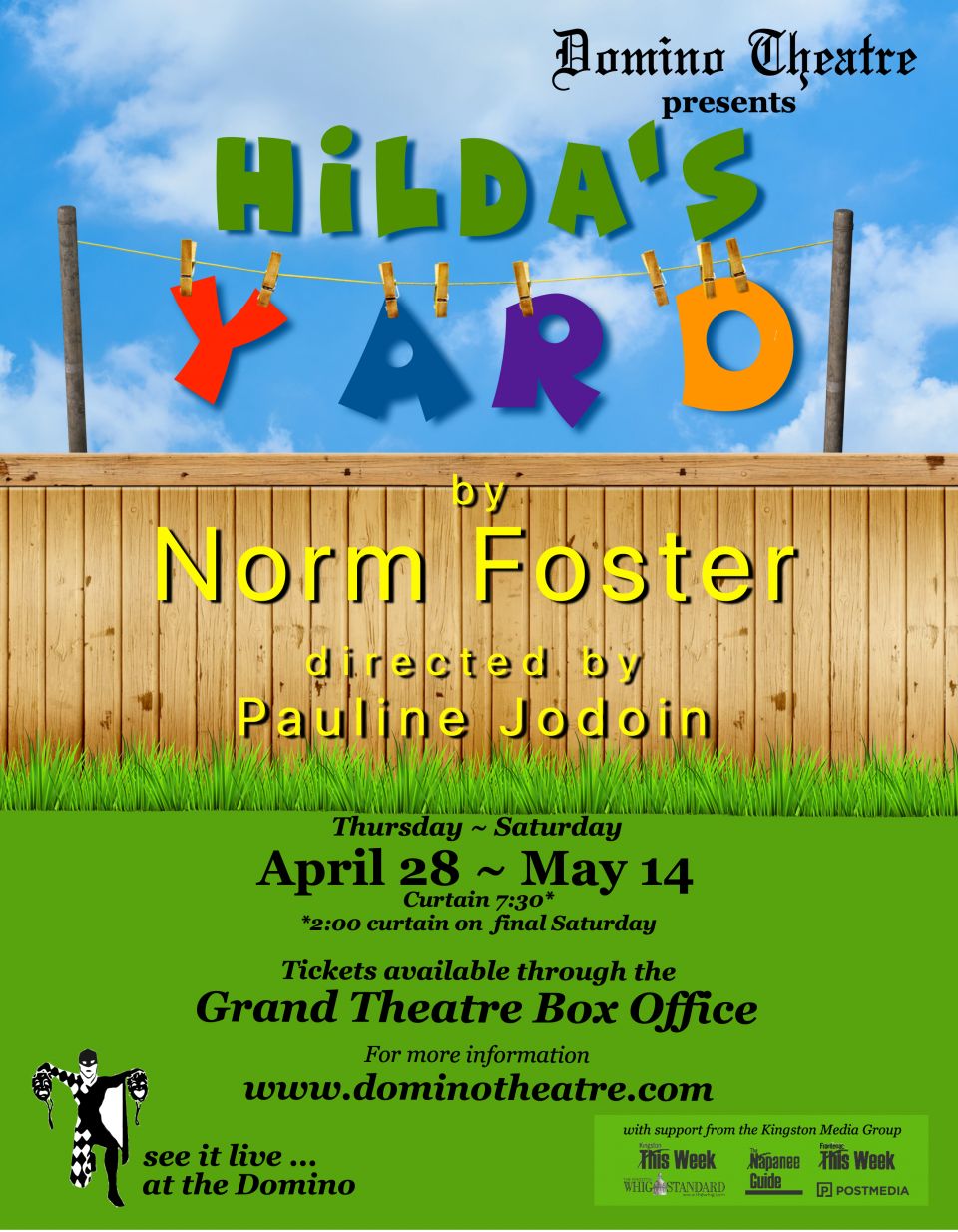 Hilda's Yard
by Norm Foster
April 28-May 14, 2022
DIRECTED BY PAULINE JODOIN: Lemonade is for people who use the front door. It's an exciting summer day in 1956 for Hilda and Sam Fluck. Newly on their own since their thirty something children Gary and Janey moved out; they are finally ready to relax. Hilda plans to hang her laundry while Sam goes to buy a shiny new television. What could disturb their simple peace? Turns out doors are merely decoration as Gary and Janey literally fall over the fence into the backyard, looking for help out of sticky situations. Gary has lost his job, is enamored with his new girlfriend, Bobbi, and running from a bookie named Beverly, while the ever-dependent Janey has unexpectedly left her husband. The family careens into an afternoon of calamity, showing them that ultimately, they must celebrate how they can be together rather than apart.
Disclaimer: The presentation of live shows and events at Domino Theatre is subject to all provincial and public health guidelines in place at the time of the scheduled performance.
Venue
52 Church Street
Kingston ON K7L 4X8
Canada