Given the continued rise of COVID-19 cases in Kingston, and the provincial government's new restrictions on live performances, Domino Theatre has made the difficult decision to cancel its production of Hilda's Yard, originally scheduled to be staged Apr. 28 to May 14, 2022. 
This decision was not made lightly, and with the hope to be able to return to the stage as soon as it is safe to do so.
We apologize for any inconvenience this may cause you.
Tickets may be converted to a credit to use for a future Domino Theatre production, donated to Domino Theatre or refunded to the credit card of your choice.

Kingston Grand Box Office needs to hear from you - requests regarding credits, donations and refunds can be made by e-mail at grandtheatre2@cityofkingston.ca (please include a current call back number) OR by phone 613-530-2050, Monday to Friday 12noon until 4:30pm.  Kingston Grand Box Office is closed to walk in service at this time.
We are experiencing a high level of requests, please be patient.
NOTE: We cannot automatically refund cards as to be PCI compliant credit card information is not stored by Kingston Grand Theatre nor our ticketing platform TixHub. VISA & Mastercard Debit transactions are currently not available to be refunded by phone.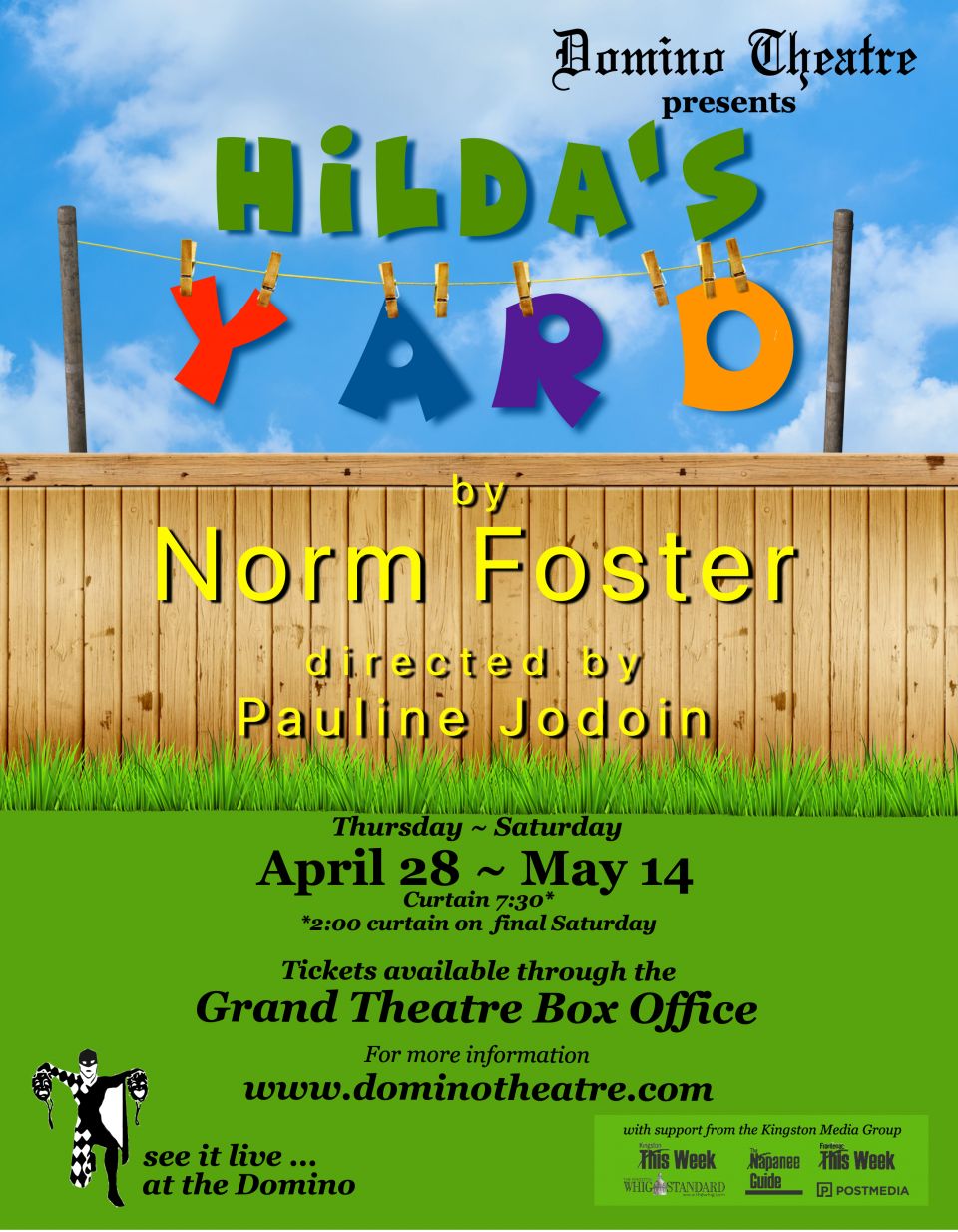 Hilda's Yard
by Norm Foster
April 28-May 14, 2022
DIRECTED BY PAULINE JODOIN: Lemonade is for people who use the front door. It's an exciting summer day in 1956 for Hilda and Sam Fluck. Newly on their own since their thirty something children Gary and Janey moved out; they are finally ready to relax. Hilda plans to hang her laundry while Sam goes to buy a shiny new television. What could disturb their simple peace? Turns out doors are merely decoration as Gary and Janey literally fall over the fence into the backyard, looking for help out of sticky situations. Gary has lost his job, is enamored with his new girlfriend, Bobbi, and running from a bookie named Beverly, while the ever-dependent Janey has unexpectedly left her husband. The family careens into an afternoon of calamity, showing them that ultimately, they must celebrate how they can be together rather than apart.
Disclaimer: The presentation of live shows and events at Domino Theatre is subject to all provincial and public health guidelines in place at the time of the scheduled performance.
Venue
52 Church Street
Kingston ON K7L 4X8
Canada