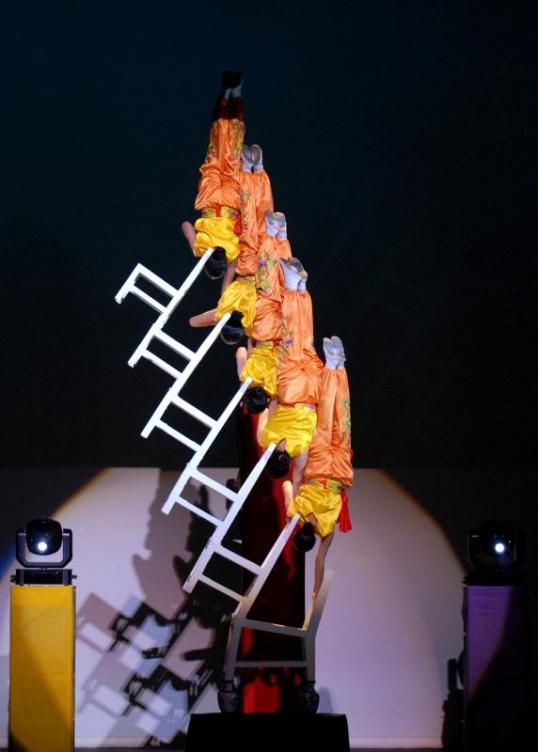 THIS SCHOOL PERFORMANCE IS SOLD OUT. KINDLY FILL OUT OUR ONLINE ORDER FORM SHOULD YOU WISH TO BE ADDED TO THE WAITLIST. WE WILL CONTACT YOU IF WE ARE ABLE TO ACCOMMODATE YOUR GROUP.
The Peking Acrobats have been pushing the limits of human ability, and flexibility, for the past 31 years. These Chinese acrobats will leave audiences stunned as they tumble, juggle, climb, and contort themselves in seamless, fluid motion with unparalleled discipline.
In 1999, group balanced six members atop seven chairs and set the Guinness world record for Tallest Human Chair Stack. The company has featured on countless TV specials in the United States and are perhaps best known for their cameos in the Oceans Eleven trilogy.
The Peking Acrobats add a modern edge to the time-honoured history of traditional Chinese folk art and skilled gymnastics that will dazzle audiences of all ages.
"The Peking Acrobats [are] pushing the envelope of human possibility. Pure artistry!" - New York Post
"Nearly everything The Peking Acrobats did last night was amazing and stunning, and breath-taking and WOW!" - Seattle Times
Curriculum Connections
Chinese traditional carnival, folk art and music, performance art - acrobatics and gymnastics, physical literacy.