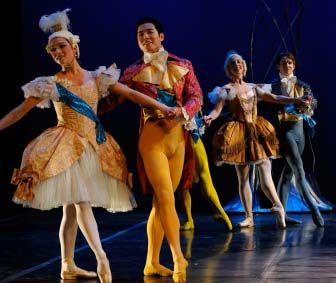 Date:  Friday, May 1st
Time:  1:00-2:30 p.m.
Location:  Kingston School of Dance, Tett Centre for Creativity and Learning
Join one of the company dancers from Ballet Jörgen as they share their technical expertise in a classical ballet master class that will help students to see things anew, and inspire them to achieve more with their dancing!   
Please note:  This class is restricted to dancers aged 12 and above, and suggested for dancers at an Intermediate-Advanced level of training and above.  This class is NOT recommended for beginners.  Space is restricted to 20 dancers, and registrations will be taken on a first-come, first-served basis.  A waiting list will be maintained to offer spaces to dancers in the event of any openings.
AUDITION OPPORTUNITY:  This master class offers dancers aged 16+ an exciting opportunity!  Interested dancers can use this class as an audition for Ballet Jörgen's Summer Intensive IV.  An intensive ballet training program with Canada's Ballet Jörgen professionals; students are pre-professional dancers looking to dance seven hours a day perfecting classical technique, learning company repertoire with company dancers in a program that also includes specialized coaching classes, one-on-one privates and modern, yoga and conditioning classes. NEW ELEMENT for 2015: For students attending the full 5-week program, a choreographer will be invited in to create an original dance work with you.  You will never be in better shape than you are after spending these five weeks with artistic director Bengt Jörgen and his dancers & faculty.  Acceptance into this program is by audition only and positions are limited to approximately 25 spots every summer.  Students unable to attend the Kingston master class to audition are welcomed to audition in Ottawa on April 26th.
Please be advised that there are a maximum number of spaces available for participants in this activity. We also reserve the right to cancel this activity if we do not have the minimum number of participants registered.